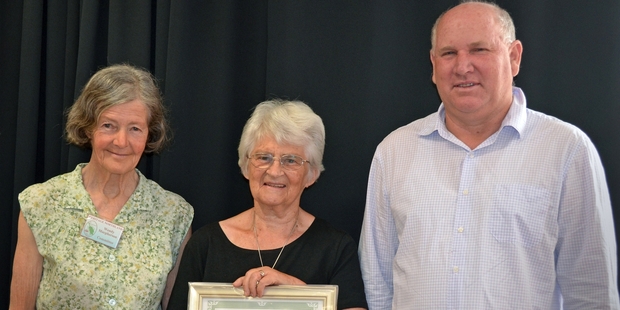 Heritage Northland has embarked upon a process of recognising 'local heritage heroes,' and could hardly have chosen a better candidate for recognition than Olwyn Ramsey.
Mrs Ramsey, who received her award at Te Ahu last week, had been actively involved in what was now the Te Ahu Heritage Museum and Archives since 1985, Bill Edwards (Heritage NZ) said, as the archivist, a trust board member and board secretary, and as a volunteer.
"She has devoted many years to creating something for the future, passing something on," he said.
Mrs Ramsey replied that she had "had a ball" over the last 30 years, discovering and archiving records from cemeteries, schools, and documents that had been dragged out from under people's beds.
In the early days of her involvement she had sat at the museum with her knitting, waiting for people to arrive and give her their money, which she had found boring. Some 15 years later, by that time redundant, she began to immerse herself in two rooms full of records.
"You wouldn't get a lot of those records now that people know they are worth money," she said, "but I have been paid to pursue my passion. I would have happily done it for nothing."
Wendy Macpherson, a member of Heritage Northland, who nominated Mrs Ramsey for the award, said she was amazed by how much work she had done, while museum trust board member Alan Macrae said his first contact with the museum had been in the course of carrying out research for the Department of Conservation.
He had got to know Mrs Ramsey well, and, recognising the value of the research she was doing, became increasingly interested himself.
"I've worked with Olwyn for the last four years," he added, "and what she has created is an amazing resource, accessible to all and basically free. None of that would be there if she had not done the work she has done."