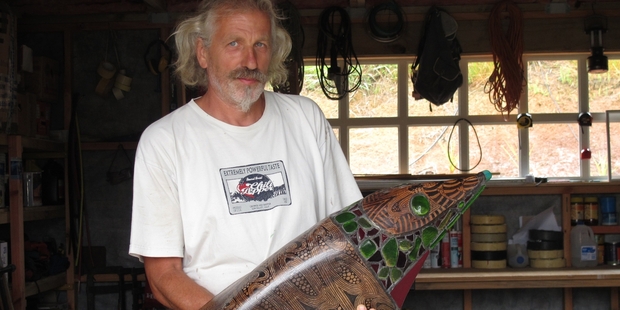 A Czech artist has given up fame and a steady stream of commissions in his homeland for a new life in the Far North.
Ludek Adamek, a prolific artist who works mainly in stained glass and steel, is starting again in a strange land where no one knows his work and where he doesn't know the language.
He and his wife Magda, a nurse, moved to a 50ha bush property on Back River Road, near Mangonui, last year. They are living off the grid in a shed that will become his studio once their house is built.
The couple moved to New Zealand to be close to their only child, Tomas, who works as a programmer for air navigation company Airways, in Auckland, and his partner, although Ludek said he had also been motivated partly by curiosity, and a desire to see if anyone in New Zealand would be interested in his art.
"It is difficult but I like it. I could create anywhere," he said in Czech.
He had found new sources of inspiration, especially in Maori tattoos, and new materials, such as nikau palm fronds. The bush outside his shed was his art supplies warehouse, he said.
Magda said she and her husband enjoyed the quieter, simpler life New Zealand offered. Living standards in the Czech Republic, the western half of what used to be communist Czechoslovakia, had improved enormously since the revolution of 1989, but people had also become much busier, more materialistic, and often less satisfied.
Their friends could not understand why at their age - both are in their late 50s - they would go to a new country and start again from scratch, however.
Art career a hard roadIn the Czech Republic Ludek often worked on commission, creating custom-made windows, lamps and tables. He worked for new home owners, fancy hotels in Prague, churches, even a brewery.
Half his life's work came with him to New Zealand. He wanted to bring it all but it didn't fit in the container; as it was they had to leave their furniture behind.
When he was growing up in Moravia, the eastern half of the Czech lands, pursuing a career in art was impossible. He trained as a foundryman instead, making things like steel plates for bulldozer tracks. He made art in his free time, using whatever materials he could lay his hands on. Everything was in short supply then - Czechs had to queue even for basics such as toilet paper and tampons - and, because he was not a member of the government-approved Union of Artists, he couldn't buy art supplies.
He improvised by painting on roofing paper, drawing on the back of propaganda posters and making his own paper from old newspapers.
After the revolution he was finally able to work for himself, first as a welder, and from 1996 as a full-time artist.
Relaxed Kiwi style appealsThe couple had no regrets about moving to the other end of the Earth, but missed things like food and family, while Magda, who used to own an aged healthcare facility, missed working, but their main struggle so far was the language. They had lessons in Kerikeri once a week, but needed to be immersed in English to have any hope of mastering it.
Such frustrations were offset, however, by the many things they enjoyed, such as the lack of formality and officious, unhelpful bureaucrats.
Magda added that in Northland she could go to the supermarket in bare feet. If she had tried that in the Czech Republic she would not have been served.
Meanwhile Ludek was amazed by Northlanders' willingness to stop and chat. Every time he went to the supermarket in Kaitaia the checkout operator would insist on asking where he was from or chatting at length about the beauty of Prague, even if there was a queue of 20 people behind him.
In the Czech Republic that would lead to angry shouts to get a move on. In New Zealand no one seemed to mind.
- A retrospective sampling of Ludek Adamek's work is on show at Kaan Zamaan gallery, on Kerikeri's Hobson Ave, until February 10. The exhibition is called 'From Huzova to Peria,' after the couple's village in North Moravia and the area where they now live. Works range from ballpoint drawings on communist propaganda posters to stained glass ornaments and New Zealand-made nikau creations. The gallery is open from 10am to 5pm Tuesday to Friday, and 9am to 1pm on Sundays.