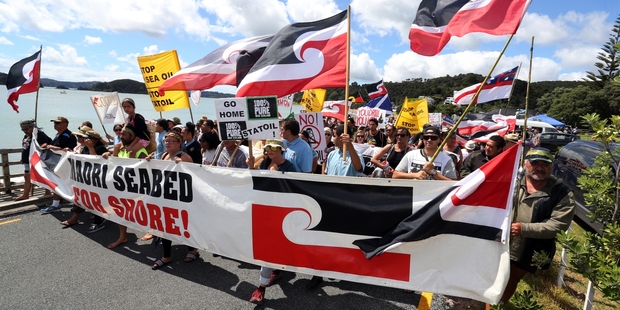 Another hikoi to Te Tii Marae will leave Te Rerenga Wairua (Cape Reinga) early on Monday morning, with the focus this time on the Trans-Pacific Partnership, which is scheduled to be signed in Auckland on Thursday.
The major concern expressed by last year's hikoi was deep sea oil drilling, particularly in Te Reinga Basin off the Northland coast. Organiser Rueben Taipari said a recent hui in Auckland had given the TPP precedence over the exploration and potential drilling by Statoil.
The potential for the TPP to protect foreign corporations' rights 'to perform ventures of industry' without accountability to the people of New Zealand, or the need to honour Te Tiriti o Waitangi, had also forced the Hikoi ki Waitangi 2016 to travel further afield to Auckland to support a national Queen Street march and rally on Thursday.
The hikoi would return to Te Tii Marae on Friday (February 5) however, and oil would remain on the agenda.
"We have access to electric bikes and electric cars to continue the argument for us to eventually convert from climate-damaging fossil fuels and divest from the oil industry towards safer and cleaner forms of energy," Mr Taipari said.
The hikoi, which would travel south via SH1, was scheduled to arrive in Kaitaia at around noon on Monday, and would march through the town. It would continue south to Moerewa and Kawakawa, highlighting concerns that the TPP would undermine the sovereignty of Ngapuhi and the democratic rights of the entire country.
Mr Taipari said predictions that more than 20,000 people would protest outside Thursday's signing of the agreement were considered to be realistic, while other events had been organised around Auckland and in every major city and many towns around the country to show the government that more than 80 per cent of New Zealanders did not want the agreement to proceed.
"The tactic of hiding the detail of the agreement until the last minute has not helped promote the TPP in a positive light," he said.
"Eleven countries with a combined population of more than half a billion people will be affected by this agreement, and will be watching this significant event. This protest will be one of the biggest this country has ever seen."
The powhiri for the hikoi at Te Tii Marae was scheduled for 9am on Friday, while a hui was being organised for Friday evening for younger Ngapuhi leaders (25-45) who were fluent in te reo Maori and who might have solutions and resources to assist in helping Ngapuhi nui tonu settle its differences and come together, even if only temporarily.
"So big mahi ahead of us, but I am looking forward to the part our generation is to play in the history of our people and this country, while we still have one," Mr Taipari said.