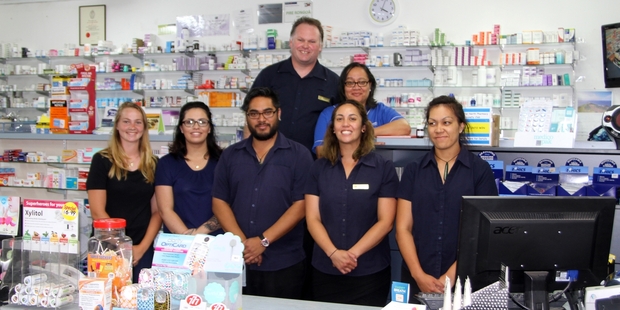 The Kaitaia Far North Pharmacy, in Kaitaia's main street, is under new ownership but the faces are very familiar.
Richard Brown spent more than 20 years with Eric Shackleton (now Shackleton's Unichem) a little further along the street, while his wife Trish (nee Pene) works in the business and as a district nurse.
Richard said he had set out from his home near Gore, bound for Kaitaia, in his "beaten-up old Subaru" 22 years ago, having been offered a place at Shackleton's for his intern year.
"I only intended staying for that year, but I've never left," he said.
He had relished the chance to work that year in Kaitaia, given its small rural town status and his background as the son of a sheep farmer, and it had delivered all that he had hoped for and more.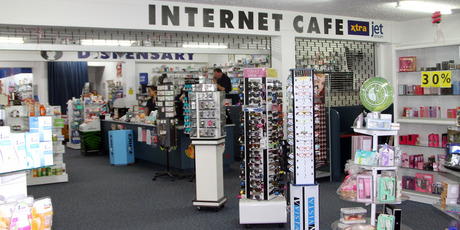 The journey north had been an adventure in itself, he added, for a "southern boy who had never driven north of Dunedin". He had met friends from Kaitaia at Otago University, however, so wasn't entirely heading into unknown territory.
His mum hadn't entirely welcomed the prospect of losing her youngest son to the other end of the country, though.
"She was crying when I left; it was all quite distressing," he said.
His mother had passed away since then but his father, who was about to turn 90, was still going strong, and he returned to Gore every year, twice if he could.
Richard met his future wife 14 years ago. The couple now have three children, the younger two attending Ahipara School. And he's certainly not planning on leaving the Far North now.
"I have found a wife and have a family. We're all very happy here, and we're here to stay," he said.
The couple took over the pharmacy, which had been bought by the Shackleton Group from its founder, Bruce Josling, six months ago. He had originally taken up the position of manager, but now it was an independent business.
Richard is the sole pharmacist, but has a full-time staff of six, while Trish takes care of the financial side of the business and a secondary school student spends time there after school a couple of days a week.
And the couple have well and truly stamped their mark on the pharmacy. It now caters significantly more for the elderly and the disabled (it serves as an agent for NorthAble), which makes good use of the expansive (by any standards, let alone the average pharmacy) premises.
"Most pharmacies don't have a lot of space but this is a huge shop, which means we can cater for a much broader clientele than would otherwise be the case," he said.
The range of cosmetics, with the emphasis on affordability, had been expanded, the internet cafe was doing brisk business and a new photo printer had been installed, replacing the one that had "blown up" two weeks after they bought the business.
"Our photo lab is now very up to date and is meeting a real need for those who want to download photos from their phones and have them printed.
"We also have a growing client base for our beauty therapy services, like waxing and piercings.
"The focus is very much on providing an affordable pharmacy option for the whole family, with the broad range of products and services that comes with that these day.
"The elderly, children, youth, the whole family concept in its broadest sense, is a big part of life for me and Trish, and we've carried that over into the business."
More than two decades of working with Eric Shackleton had also taught him a great deal, gaining skills that he was now making use of in his own business.
"I've learned a tremendous amount from him, and that experience is playing a big part in what Trish and I are now doing here," he said.