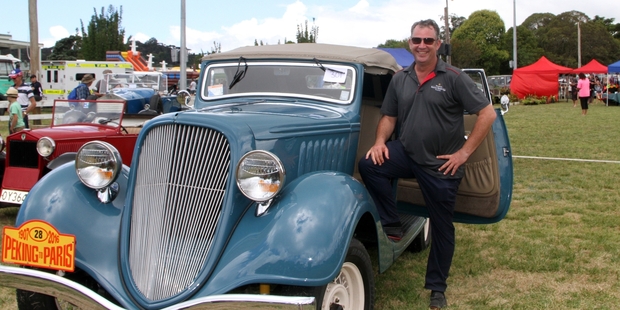 The Far North Vintage Car Club has earned an extraordinary reputation for attracting vintage and classic vehicles of all sorts to its annual Autospectacular at Taipa, and did so once again on Saturday.
And, as usual, the display included a couple of stand-out exhibits, this time in the form of an exceedingly rare 1934 Terraplane, built by the Hudson Motor Car Company in Detroit.
The six-cylinder convertible coupe had been fully restored and specially prepared by Whangarei man Hans Compter and his team, led by his son Dennis, for this year's Peking to Paris endurance event, although that was not the original plan. Hans brought the left-hand-drive car into the country from Uruguay in 2002 with the intention of one day restoring it for his own museum-collection.
In 2014 ex-pat New Zealander Colin Smith, who runs a chain of restaurants in Hong Kong and Singapore, bought it, with a contract to fully restore and prepare it for this year's race, starting June 17.
It has passed its New Zealand compliance and modifications inspections, and will soon be shipped to China.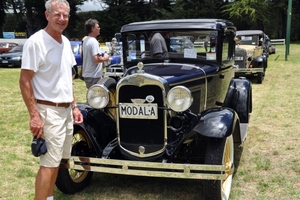 Hans, who was at Taipa once again on Saturday, said the car was a genuine rarity. There might well be a few more somewhere, he said, but he knew of only eight of them still on the road worldwide.
The show also included a Czechoslovakian Tatra, also restored (and shown) by Hans, with a remarkable provenance.
The company's rear V8-powered cars were amongst the very first fully-streamlined production cars in the early 1930s, Hans saying he had already been attracted by the stunning appearance of both the 4-cylinder Tatraplans and 8-cylinder Tatra Type 87s when, as a young boy, he attended Dutch and Belgian motor shows to snatch brochures from the stands.
"In the 1970s I was manufacturing products which the Czechoslovakians wanted to buy, but being in communist Eastern Europe they did not have Western currency to pay for them," he said.
"This resulted in a four-year barter-trade in which I got paid in mostly run-down old cars that arrived in old railway wagons in the Dutch city of Eindhoven, where I then lived and worked. Amongst them were three Tatra V8s.
"I sold those cars in the Netherlands and Germany before our immigration to New Zealand [in the early 1980s], but kept looking for a better-condition T87. In 1987 one was offered in the Sydney Morning Herald. It had belonged to the Czech Postal Ministerium, and was in well-maintained condition, the ad said. I purchased that car sight-unseen, assuming that (it was) in Australia. However, in my excitement and poor legibility of the faxed ad I had not seen that it said Austria, not Australia. So I had to pick up the car from the owner, the advertiser's cousin, in Traunkirchen, Austria.
"He had fled in the car with his wife and two daughters out of Czechoslovakia into Hungary, then Slovenia and up into Austria, where he lived in a refugee camp sponsored by the Australian government. With the money for the car the family could emigrate to Australia, where they still live today, and still send me New Year's cards.
"One day they will come to New Zealand and drive again in their restored car, which once played such an important role in another life."