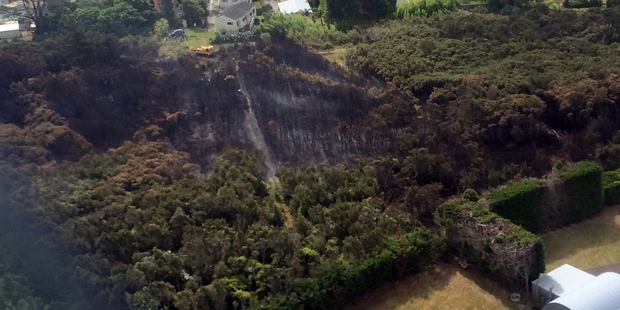 Rural fire investigator Clinton Lyall strongly suspects that children were responsible for the fire that threatened 10 homes in Donald Road Kaitaia on Wednesday afternoon, but two days after the event he was not expecting to find any indisputable evidence.
Children had been seen running away shortly before the alarm was raised, but the potential culprits were very young, and there did not seem to be any real point in pursuing them.
"All the evidence is pointing to kids, but no one's admitting anything," he said.
The Fire Service offered a very good fire education programme, but parental consent, which was often not forthcoming, was needed before youngsters could be enrolled.
Some residents had reported hearing fireworks the night before, and it was possible that vegetation had smouldered for some time before bursting into flames in the heat of the following day, but he had found no evidence to support that as the cause.
Nor did it appear to have started as a rubbish fire.
"People do dump their rubbish there but they don't seem to be burning it," he said.
Meanwhile someone had driven a tractor through the area, apparently in an attempt to give access to firefighters, potentially risking his life in the process and possibly destroying any evidence that might have been found at the fire's point of origin.
Mr Lyall also paid credit to Kaitaia's deputy Chief Fire Officer, Craig Rogers, who had been in charge of the scene.
"It was a good call to send for the choppers," he said. "The first priority for the ground crews was to protect the houses, while the choppers got the fire itself under control."
Chief Fire Officer Colin Kitchen was also impressed.
"It was a great effort by the crews involved, amazing really," he said.
-Page 9 - Kids in the gun