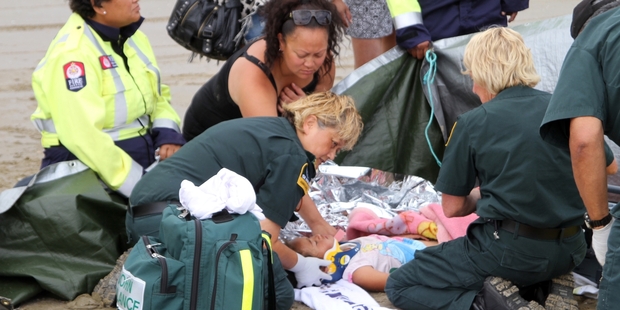 A 4-year-old girl who was believed to have lost consciousness when she was thrown from a quad bike on 90 Mile Beach last week escaped with little more than a sore head, according to police.
The child, described only as 'not local', was initially treated at the scene, about three kilometres south of Waipapakauri Ramp, by St John medics before being transported to Kaitaia Hospital.
Paramedics, who were delivered to the scene in a Far North Surf Rescue four-wheel-drive, described her injuries as moderate.
According to police the girl, who was not wearing a helmet, was thrown from the bike when it flipped, as were the 8-year-old rider and a second passenger, who was under the age of 8.
Meanwhile emergency services were called to Ahipara almost simultaneously after a girl suffered a badly broken arm while sandboarding west of Te Kohanga (Shipwreck Bay).
The quad bike accident happened four days short of a year since 9-year-old Auckland boy Rowan Willis died when he lost control of the go-kart he was driving on the beach a little further south. That prompted a warning from Northland road policing manager Inspector Murray Hodson that beaches are legally roads on which full traffic laws apply, including the requirements that vehicles be roadworthy and drivers be licensed.
"If you're wanting to drive or ride on the beach, the same rules apply as for a highway or a suburban road. There are no exemptions in place for the beach," he said.
Northland Regional Council transport projects officer Ian Crayton-Brown said at the time that the Safe Beach Driving Group, which was working with the police, the Department of Conservation, surf life saving and coastal care community groups to educate people via radio and on-beach campaigns, still had a lot of work to do.
Last year's fatality did not come as a surprise to some at Ahipara though. One woman said the summer had been bedlam. Why was [this boy] allowed to drive a motorised vehicle on the beach, at the age of 9, without a licence? This is so out of control," she said.