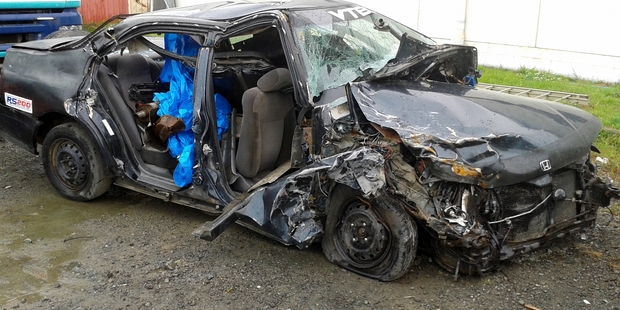 While most people were settling in to welcome a new year there was little time for celebration for emergency services in the very Far North.
It began for the Kaitaia Fire Brigade in the early minutes of Wednesday morning with a single-vehicle crash at Te Kao, although the crew was turned back when an appliance from Houhora arrived and it was established that the occupant, who was injured, was out of the vehicle.
Later in the day a crew was dispatched to Ahipara where a four-wheeled bike had hit the Wairoa Stream and thrown the helmetless rider. A crew from the Ahipara brigade provided first aid at the scene before delivering the youth to an ambulance at the Kaka Street ramp. A rescue helicopter, which landed at the nearby golf club, flew the teenager to hospital.
New Year's Eve began with a call to a cardiac arrest just east of Awanui, firefighters assisting a St John team, taking over from those who began CPR, and according to Senior Station Officer Ross Beddows did a great job.
That was followed by a head-on crash between two vehicles on Sandhills Road, inland from Ahipara, at 8.40pm, a Suzuki 4WD and a Honda car colliding on a slight crest. The Suzuki left the road, ejecting the driver, the sole occupant, before crashing through a farm fence and coming to rest in a paddock. The driver was seriously injured, while five occupants in the Honda, which remained on the road, were hurt, two of them seriously.
Firefighters assisted with first aid and cut the male driver from the wreckage, removing the doors and roof before using a hydraulic ram to push the front of the car away to free him.
"This was all done in very trying conditions, with an easterly gale blowing dust and sand into the eyes of both rescuers and patients," Mr Beddows said.
Ahipara also attended, while two rescue helicopters arrived to take the two most seriously injured to Whangarei, the others going by ambulance to Kaitaia.
While that was happening another Kaitaia appliance responded to a major blaze at Taumarumaru reserve, at Cooper's Beach, where a flare had set fire to scrub. A Mangonui crew was already there, but couldn't do much other than protect property, the terrain precluding any attempt at getting an appliance close to the blaze. Crews from Kerikeri, Kaeo, Taupo Bay, Karikari and Rangiputa also responded.
Kaitaia and Ahipara crews saw the New Year in at a small hedge fire, started by fireworks, on Ahipara's Foreshore Road, just before midnight, and an hour later an appliance was dispatched to remove a tree that had fallen across Fairburn Road. They were back at the same place 10 hours later after two more came down, coming across a nose-to-tail crash in South Road en route.
A couple of young girls suffered minor injuries.
The afternoon of January 1 brought three more calls, an oven fire at an address in Melody Lane being followed by a diesel spill on SH10 at Kaingaroa and a call to assist at a crime scene in Bonnetts Road once the police had completed their initial investigation.
A crew from Houhora responded to a two-vehicle crash near Waihopo on Saturday, Kaitaia's appliances being turned back at Waiharara. Both cars were written off but no one was seriously hurt. One driver has been charged with careless use.