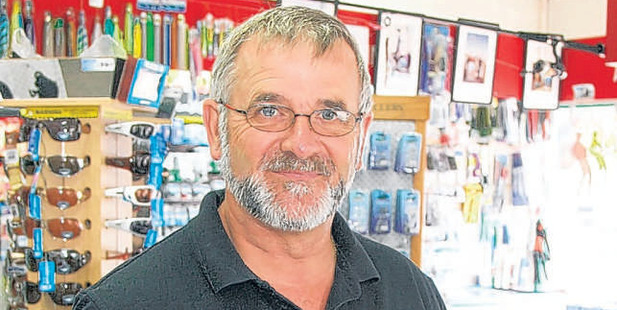 The owners of New Zealand's oldest service station, in Russell, have said a firm no to selling cigarettes and tobacco, and have won two awards for their stance.
John Moolenschot and Fran Crawford have stood firm against selling tobacco products at Gasoline Alley. They took over running the station in May last year, after moving to Russell from Whangarei, and said they'd come under pressure to stock tobacco, mainly from Gasoline Alley Services, the company that supplies petrol to independently-owned and -operated GAS service stations throughout New Zealand.
The previous owners had not stocked tobacco products, but Mr Moolenschot said Gasoline Alley approached them the same week they stepped in the door, and were
continuing to suggest they change the policy.
The couple had no intention of buckling, however, Mr Moolenschot saying his main
motivation, as a non-smoker, was to promote a healthy lifestyle, but it also made business sense.
"We don't have to pay the extra insurances required for selling tobacco and cigarettes," he said.
Gasoline Alley, which now supplies 122 service stations around the country, promotes the
sale of tobacco products as a way of generating income and increasing the customer base.
"I've never understood why service stations sell cigarettes; cigarettes and petrol don't mix," Mr Moolenschot said, a stance that has now been formally acknowledged by the Cancer Society and the Asthma Society.
Cancer Society health promoter Jim Callaghan said there were now 20 retailers in Northland that either did not sell tobacco, or put the products out of sight, in
drawers under the counter. And while people were coming into the station daily wanting to buy cigarettes, the policy had not cost the couple any business so far.
"People ask why we don't sell them, and I explain we don't sell them because it's a nasty habit and 90 per cent of people agree with us," he added.
Smoking's a habit that Mr Moolenschot, originally from Holland, knows all too well. He
gave it up 33 years ago - while working in London as a sales representative - after smoking up to 50 cigarettes a day.
"I would even get up at 2 a.m. or 3 a.m. to have cigarettes," he said.
When he got married and his first child arrived he decided, as a New Year's resolution, to kick the habit.
"I went cold turkey and I never looked back. Most of the people who come into the shop use the excuse that it's a habit that's too hard to kick."
It's a habit he's happily left behind however, something he's more than willing to share withcustomers.
The service station is becoming known for its tobacco-free stance, and also for its history. It opened in 1930, and hasn't changed much over the last 80 years.
Mr Moolenschot said summer tourists often took photographs of the iconic station, and a wedding party had even used it as a backdrop for their photographs.