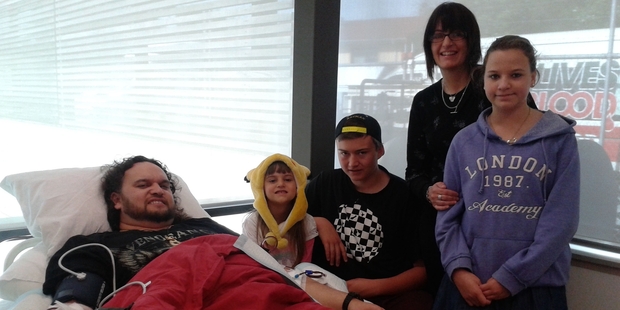 Dave Cook, originally from Kaimaumau, but now living with his wife and their three children in Tauranga, became a regular blood donor in 2007, after his youngest child, born at one day shy of 25 weeks (weighing one pound 11 ounces, 765g) needed a series of transfusions.
He saw donating blood as a means of giving something back, but last month he went another, major step further, by donating bone marrow.
In 2009, when the mobile blood donor unit visited Kaitaia, he was asked if I would be interested in joining the New Zealand Bone Marrow Donors' Registry, which then, as now, was especially keen to enlist people of Maori and Polynesian descent.
"This was not a hard decision for me to make, as my grandmother, who passed away in 2001, had chronic lymphocytic leukaemia," he said.
Nothing happened until a few months ago, when he received a phone call from registry co-ordinator Carolyn Crump, who told him he was a potential match for a patient and asked if he was still interested. He was, and the process began.
"She gave me a rundown of what being a donor would entail and how the collection would be done, then asked if I could go to the New Zealand Blood Service in Tauranga for more blood samples for tissue type matching," Dave said.
"At this stage I was feeling a bit anxious and apprehensive, as I still didn't really know much about the donation process. I guess a natural feeling of fear of the unknown. I then received a phone call from Carolyn about a month later, informing me that I was a match for the patient, who was in Australia."
The next step was a trip to Auckland for a vein assessment and an interview with a doctor, much the same as the standard interview before giving blood. He signed consent forms and was shown how to inject himself with the drug that would stimulate the growth of stem cells.
That was followed by an ECG, chest x-ray, more blood tests, and lastly an independent medical examination to determine his fitness for the procedure before he signed the final consent form.
The injections arrived via courier a week before the procedure. The injections, two in the morning and one in the evening, were painless and easy to administer, but left him with headaches, muscle and joint pain, mainly in the lower back, which was controlled with paracetamol. He also felt very fatigued.
The course of injections completed, he and his family travelled to Auckland, where the NZBMDR had booked them into a motel. The registry paid for their accommodation, travel, meals, and Dave's time off work.
Next day he went to the Blood Donor Centre, where blood was taken from one arm and returned via the other, after passing through a machine that separated out the stem cells. It wasn't without pain, although he was told that that was probably the result of the needle in his right arm causing the vein to rest against a nerve.
"They were getting a good flow from my arm though, so we carried on," he said.
"During the collection I felt very tired, sometimes thirsty and at one stage quite nauseous. The collection took three and a half hours.
"After the collection I sat in the waiting room, refuelling, until the doctor gave me the all clear to leave. I went back to the motel and rested for the remainder of the day.
"The collected stem cells were sent to Auckland Hospital for a count. I was told that they had collected enough and I was free to return home the next day.
"I received a checkup call from Carolyn and the nurse who looked after me during the collection. Both these people were awesome, and made the whole process as comfortable and easy as possible for me.
"All in all, the whole process was very easy to go through, and I would definitely do it again should they need me. I would urge anyone to join the NZBMDR, as it is a no obligation commitment and, after all, you may save a life. I can now only wait for updates, and hope that all goes well for the recipient patient."