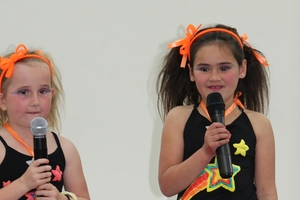 Any doubts that the kids at Pamapuria School had enough collective X Factor to make a show were truly laid to rest when 11 finalists performed at the school for a receptive audience of family and friends.
The show featured solo and group singers, a band or two adding a few dance moves, while the costumes were bright and colourful and every one of the performers did themselves proud.
Tayla Bamber won the senior title, Remy Herbert the middle and The Diamond Girls, Ngarimu Parslow and Astyn Hobman the junior. (The third Diamond, Annalyse Riddle, succumbed to last-minute nerves and took a seat with the audience).
The judges - Monte Pawa, Jr, who was busy rehearsing for his semifinal performance on Maori Television's Homai Te Pakipaki, Monte's vocal coach and herself a singer Mihi Henare, and Kaitaia College music teacher and Pamapuria parent Lisa Chuck, were highly impressed by the calibre of the performances, and the mettle it took to go on stage.
"Big ups to all you guys who had the courage to perform," he said.
DJ Venom (aka Herepete Herbert) donated his time and equipment to support the performers with music and microphones, while special guest Puhirere Tau, a student at Kaitaia Abundant Life School, displayed the singing talent that got him all the way through to boot camp in X Factor 2012.
Teacher Cheryl Bamber, who helped organise the competition with her Year 7-8 pupils, said the idea had been to do something positive for the school.
"What I had hoped the kids would gain was confidence, and they certainly have. It has spilled over into other areas of their school life, and it's just been awesome," she said.
With 57 children signing up for the heats there was obviously no shortage of enthusiasm, she added.
There had been much more to the event than just an entertaining show, however.
"Our Year 7-8 class showcased their maturity, responsibility and tenacity to organise and run the whole programme from the initial concept, heats etc, and they will be seeking feedback from children, staff and parents/whanau about what they thought went well and any improvements for next year," Mrs Bamber said.
"It will form part of their goals for literacy [oral and written language], health and PE, relationships with other people, movement concepts and healthy communities by taking responsible and critical action.
"They also worked on the key competencies of managing self, relating to others, participating and contributing, thinking and using languages, symbols and texts."
She had made contact with the judges and Puhirere Tau, but the children had been well informed throughout regarding what was happening.
"It was an exciting and positive event for everyone, and they loved helping our community," she said.
"We looked at it as a way of providing opportunities for our kids to shine, have fun and involve our parents, whanau and community."
Her class was organising sporting events and investigating an issue that she said would benefit Kaitaia children.