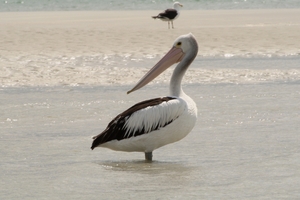 Awanui farmer and naturalist Kevin Matthews is beginning to wonder if pelicans are in the Far North to stay. A number of birds made themselves at home in Kerikeri and at Ahipara earlier in the year, and there have been more recent sightings .
One appears to have taken up residence on a sand bank on Rangaunu Harbour, and three weeks ago a pair were seen riding the thermal updrafts off Cable Bay before heading off in the direction of Rangaunu Harbour.
"Eight were spotted on the shell bank out from Paua about three months ago, and four more have been hanging around the upper harbour near Unahi," Mr Matthews said.
The birds, Pelecanus conspicillatus, were visitors from Australia, where they were common in sheltered, shallow bays, estuaries and inland waters.
"They are found wherever there is a large body of water and plenty of food," he added.
"They feed mainly on fish, but also crustaceans (shrimp), insects and other aquatic animals."
Only time would tell if the birds had moved in permanently and would breed, but sightings were becoming much more common than in the past.
Only a handful of sightings had been reported in New Zealand in the last 125 years, including the Whanganui River (1890), Kaipara Harbour (1976), Southland (1977) and South Canterbury (1977-78). Three pelicans seen on the Waitemata Harbour in January were thought to have been part of a flock of 18 that were seen together at Tapora, on the Kaipara Harbour, in April.