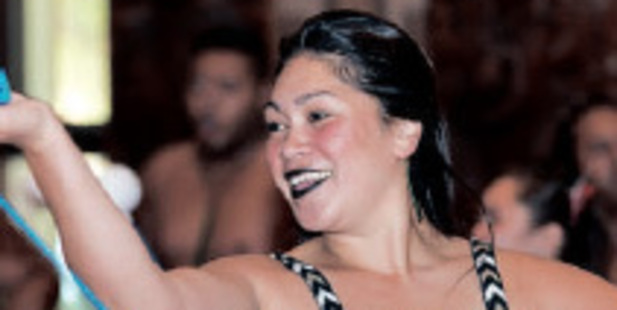 To be greeted traditionally on the Waitangi Treaty Grounds in the company of overseas guests is to literally see ourselves through the eyes of others.
Many home-grown Kiwis find it an affirming experience that imbues a sense of national pride and passion. What we didn't learn at school becomes adult education through the
voice of a member of Te Pitowhenua, the Waitangi Treaty Grounds' resident performance group, as the meaning and circumstance of the Bledisloe Deed of Gift is explained. Without it, likely none of us would be standing there and for Dinnese Robertson (our guide for the day) it's personal - one of her forebears was a signatory to the treaty document.
The Treaty House stroll is followed by a traditional Maori welcome outside Te Whare Runanga (the adjacent carved meeting house) that includes waiata (singing), poi, stick games, a demonstration of Maori weaponry and a haka which is clearly the most recognizable segment of the performance among the gathering 20 or so guests, most of whom are from overseas.
Sydneysider, Liz Swanton, visited in August and braved the blustery conditions. She says the
cultural tour clarified the significance of the treaty.
"I would certainly love to be here on Waitangi Day, to feel the richness of the history and see the canoes in action. And it's such a beautiful spot, so well maintained."
Perhaps the fact she was born in New Zealand but left when she was six years old has something to do with what she calls a 'reawakening of a sense of being a Kiwi'. She says
the Waitangi visit has highlighted some significant differences between Australia and New Zealand. " I've never had the level of awareness of Aboriginal history and culture through school and into adulthood that Kiwis obviously have and it's a great shame we are not more aware of the richness of the Aboriginal culture."