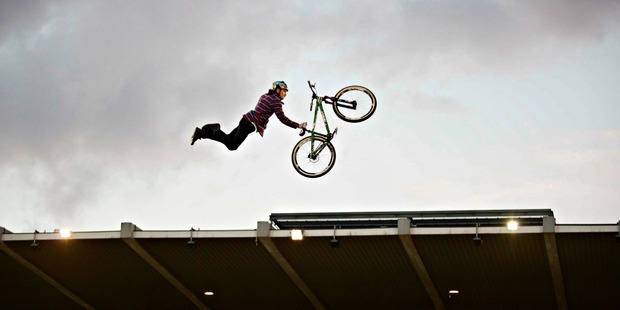 More than 12,000 people packed into Central Energy Trust Arena last Friday night as Nitro Circus kicked off their New Zealand tour in style, throwing down death-defying, world-first stunts.
Despite Manawatu's infamous wind giving the show a late start, fans at the venue got a night to remember.
After some warmup double backflips kicking things off, the real adrenaline pumping stunts came one after the other.
Athlete after athlete came down a 40ft Giganta ramp, pulling off all sorts of incredible tricks on their BMX bikes.
They also flew down the slope on a host of wild contraptions including a couch, whiskey barrel and a double-deckerbike.
Right alongside, freestyle motocross took to the stage with fearless athletes landing 30ft jumps and pulling off daring supermans, rulers, tail whips and various other feats on their dirtbikes.
Manawatu's Levi Sherwood was most impressive, wowing the crowd with his bag of tricks which included a stunning ruler flip.
The night also took an inspiring turn when Bruce Cook, who lost the use of his legs two years ago, landed a paraplegic backflip on his modified bike.
The Canadian was clearly nervous but, the moment he landed, he was surrounded by teammates who hugged and cheered for their brother.
Three brave men were also plucked from the audience and, after reappearing in Fox gear, they were piled onto a dirtbike with Cam Sinclair.
The foursome stunned audiences after landing a backflip, the first one ever done with more than three people.
Throughout the night, Nitro Circus also took time to remember extreme sports star Erik Roner who died in 2015 during a skydive.
After a video tribute, the crowd gave the man "who died chasing his dreams" a standing ovation.
By this time, the audience was clearly excited and things ramped up as the superstars took to the air.
Andy Buckworth was a crowd favourite after he pulled off a triple backflip on his pink BMX, a trick only performed at the Nitro Circus World Games.
And as the hosts put it, these guys re-wrote history when the FMX superstars followed up with deadbody backflips, each rider completing their predecessors tricks and adding their own.
Harry Bing pulled off an incredible rocksolid backflip, the most dangerous trick in freestyle motocross.
The signature Nitro Bomb was also showstopper and 16 athletes, both on BMX and FMX, jumped off the ramps at one time, throwing a barrage of backflips in the air.
The show concluded with the superstars spending some time with their young fans, signing autographs and thanking them for their support.