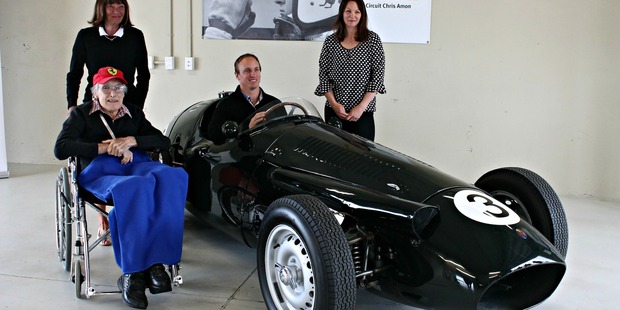 Legendary Formula 1 driver Chris Amon has been honoured by one of the places he felt most at home.
Manfeild announced at their Feilding venue on Thursday they would be renaming their main track, Manfeild Circuit Chris Amon.
Manfeild Park Trust chief executive Julie Keane made the announcement in front of Amon's wife and children and representatives from Toyota New Zealand, the Manawatu Car Club and Southwards Car Museum.
"When looking at our long and glorious history...one name is consistently linked," she said. "Chris Amon was a very special friend to Manfeild...he will be with us always."
The circuit was Amon's "opus", and the curved corner's his "legacy". He had significant input into the layout when it was built in the 1970s, choosing the final design that is still used today.
"There was Chris Amon the racer, and Chris Amon the racing circuit designer," Mrs Keane continued. "He was fierce in his defence of Manfeild being the best place for the great New Zealand Grand Prix."
The unveiling was also attended by Amon's former mechanic, Bruce Wilson, and his son Rolf. Wilson and Amon paired up in the 1950s when Amon was just 16 years old. The pair worked together for more than decade, with Wilson completely rebuilding the Maserati 250F that Amon had bought.
Amon's son James said they knew the motorsport legend as Chris the father and Chris the farmer.
"...so, to hear all this is very humbling. To hear how honest and genuine dad was is nice...in motorsport there are people who are in it for themselves but dad wasn't like that."
Amon's daughter Georgie said her father would be very humbled by the name-sake.
"He didn't like much of a fuss...but he would be very honoured. He was always happy here at Manfeild, as a driver and a spectator. He would spend hours talking to people in the pits - he was very happy when he was here."
Manfeild took time to meet with the family prior to their decision but never got to ask Amon's permission before his death in August.
"It was particularly emotional to meet the family," Mrs Keane said. "We are doing it because this will always be Chris' home."
After the unveiling, those attending were able to take a look Amon's now infamous Maserati 250F which is kept at Southwards Car Museum.
Amon was raised in Bulls on a sheep-farm and learnt to drive at the age of 6. He would "slide" his dad's ute around the paddocks and developed a fascination with driving early on.
Amon left New Zealand after being spotted by Reg Parnell during the 1962 racing season while driving the 250 F Maserati. He created a spectacular career overseas that included several wins and developed the reputation of being one of the world's best F1 drivers to never win a Grand Prix.