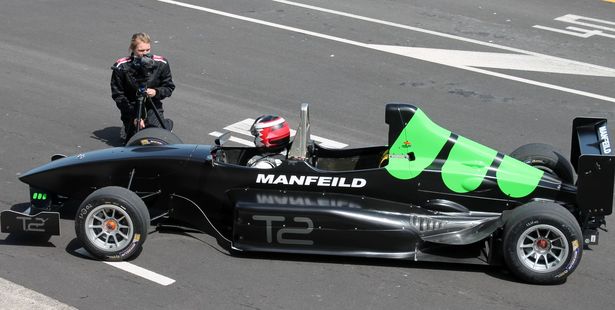 An exclusive and thrilling passenger experience is coming to Manfeild.
The Manfeild Hot Laps T2 Experience will offer motorsport fans the rare chance to ride as a passenger in a high-performance, formula racing car.
The initiative was officially launched on Tuesday, with media from across the region the first to take a spin.
Guardian chief reporter Alecia Rousseau took a ride in the T2 driven by Gavin Halls.
After a briefing on safety rules, the car tore through the circuit reaching speeds of up to 220km/h.
The two-seater FT40 is a replica of one recently used in the Toyota Racing Series. It has a one-make carbon fibre chassis design, a race-developed engine and the full "wings and slicks" package.
Manfeild Park Trust CEO Julie Keane said the public would be given the opportunity to experience the speed and dynamic feel from a car that has started careers like acclaimed driver Brendon Hartley.
She said this was a fully immersive ride and Manfeild felt there were several people who would consider it a dream come true to experience a race track like theirs.
"Those are among the people who we are especially aiming to reach with the T2 Experience.
"This is a big step up from the hot lap experiences that have been staged here and are common at other circuits - we're providing a chance to try out a world-class motor-racing circuit at speed in an internationally respected racing car."
The vehicle has previously been used as a promotional car for the Toyota Racing Series.
"We jumped at the chance to use it to promote Manfeild's status in New Zealand as a destination venue," Mrs Keane said.
"Previously the T2 car was only here for race weekend but, now it has a permanent home at Manfeild and will be available for public experience at least once every month.
"It is also available for corporate use."
Manfeild is anticipating high interest in this but those wishing to take part will need to check the weight and height restrictions.
Passengers are kitted out in full racing wear (overalls, gloves, neck brace and helmet), and will be in a machine capable of reaching speeds of 265km/h, all accentuated by the occupants closeness to the tarmac.
So if you want to be a back-seat driver, chauffeured by an experienced formula racer, visit www.manfeild.co.nz for more information.