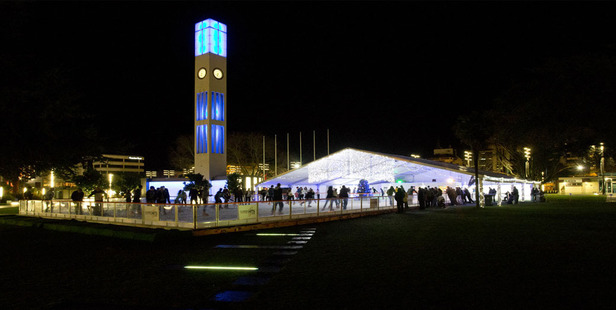 A winter wonderland has landed in central Palmerston North just in time for the April school holidays.
Ice World New Zealand has brought its Ice Rink back to The Square and is introducing a new attraction that staff say, appeals to young and old alike.
"The Ice Fest is back in Palmerston North, bigger and better than ever," Ice World New Zealand managing director Wayne Lawrence says. "This year not only are we bringing your favourite Ice Rink back, we're also bringing a Giant Snow Globe to The Square for the first time ever."
The Giant Snow Globe will hold up to 12 people and a photographer will be on-hand for those wanting a professional photo.
"The snow globe will be there throughout the school holidays and will be a really impressive sight," Mr Lawrence says. "It'll be an Easter-themed globe and, just like a traditional snow globe, there'll be lots of soft snow floating around."
Mr Lawrence says the weather was challenging over opening weekend but, Palmerston North showed their support.
"We saw a lot of smiling faces, a few wet behinds and many memories being made."
The last time Ice World New Zealand visited Palmerston North was in 2015 and, over their four-week presence, more than 17,000 people took to the ice.
"We're so grateful to the Palmerston North community and all of those who travelled from out of town to attend the ice rink. It's because of this amazing support we return time and time again."
Mr Lawrence says he's impressed by how council, businesses and residents were willing to bend over backwards to help.
"We support the local economy by using all local suppliers and staff and, in return we receive such great support back. The Palmerston North City Council has always been incredibly supportive of us and this year, they're providing all the lighting so that's a really huge contribution."
The Ice Rink officially opened on April 1 and will operate throughout the Easter and the April school holidays until April 30.
GIVEAWAY: The Manawatu Guardian has one family pass to giveaway for the Ice Rink. Email editorial@guardiannews.co.nz and tell us what this year's new addition is. Be sure to include a daytime phone number.