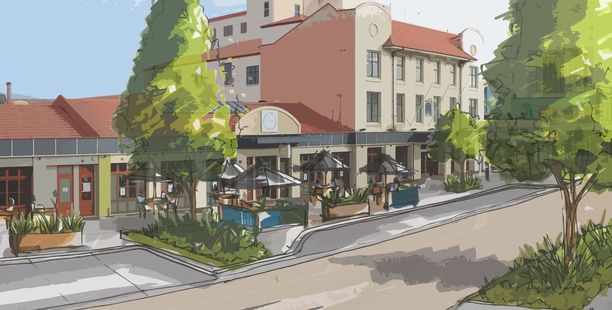 A welcome addition to Little Cuba is underway after confirmation that Focal Point will open its boutique cinema and cafe there later in the year.
The Palmerston North cinema will be the fourth that owners Matt and Julie Bell have opened, with the original theatre in Feilding and two others in Levin and Hastings.
Mr Bell says they see the move into Cuba St as a perfect fit and are looking forward to being a part of the future development of the area.
"We knew from the start that the Cuba and George Street area was where we wanted to be. We feel it's a fantastic match with all the other hospitality businesses in the area."
Bell says that the idea of being a part of a hospitality hub means they get to contribute to the identity of Little Cuba.
"I like to think that we will be a real asset to the other businesses in the area rather than a competitor, as a collective we see the potential in making this area a real destination."
Sublime Coffee area manager Andrew Hughes says his neighbouring shop welcomes Focal Point and believes what they offer is a bonus to our city.
"We know it will be a big win for Palmy, so we are all for it. Having Focal Point Cinema down the road will draw people out and help make this part of the city an interactive, urban and funky environment."
Mr Hughes says he loves that the focus of the Cuba Street area is less on shopping and more about communication and interaction.
"PNCC have some incredible plans that will give this area a unique identity and a sense of community that I personally think is great for all of the retailers here in the long term."
PNCC planner Keagen Aplin-Thane says they are working towards extending successful green spaces of Little Cuba towards Central Energy Trust Arena to improve its connection to the CBD.
"We want people that come to attend all these big events at the arena to be drawn into town and spend the day shopping, eating and enjoying our fantastic city. We are confident the plans we have for Cuba Street will facilitate that and allow people to see the vibrancy that we have to offer."