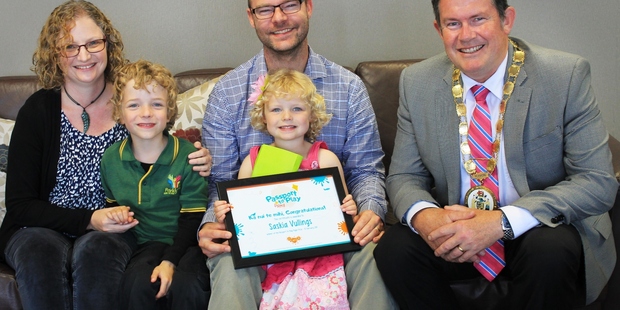 An activity designed to get the region's children moving has impressed locals with it's unexpected success.
Passport to Play Palmy encourages participants to collect stamps where they find bright orange posts in the city's parks and reserves. The parent-led project created a buzz over the school holidays, prompting hundreds of families to get out into nature and discover some of the places Palmerston North has to offer.
The scheme is funded through the Palmerston North City Council's Placemaking initiative and had started out as a small pilot programme but, when the first print run of 1000 passports ran out after only four days, the team realised it was going to be a hit.
Passport to Play Palmy co-creator Heather Knox says the appeal for people is that it's a free activity, making it accessible to everyone.
"It's free, fun and family-friendly. Many families incorporated it with Palmy Rocks so it extended the activity in each park and made it enjoyable for all."
The team also provided a PDF download of the passports online and, although they can't be sure how many were printed, the page had more than 2000 views.
Knox says the project's success comes down to people actively taking part and sharing their activity on the Facebook page.
"People see others doing it and that's what really prompts others to take part. We are so lucky to have a community of people who are willing to give it a go and encourage others to as well."
About 660 completed passports were entered into a prize draw at the start of February with 4-year-old Saskia Vullings winning the $500 voucher.
However, those who have not completed their passports can continue to collect stamps as there is no confirmed date the orange posts will be removed.
"Obviously the prize part of the challenge is over but, for those that want to finish up their passports, they are still able to do so," Mrs Knox says.
The team at Placemaking Palmy say they are so excited by the success of Passport to Play Palmy they are now looking into new and innovative ways to extend on it.