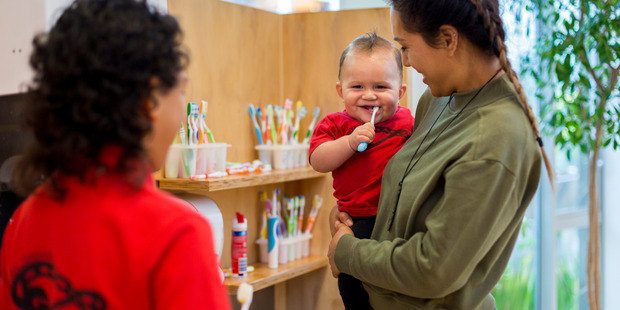 High rates of poor oral health in Maori children is being challenged by a local Kura Kaupapa.
Since Mana Tamariki first opened its doors as a Kohanga Reo in 1990, toothbrushing has been incorporated into their everyday routines.
The Kura Kaupapa caters for children from birth to high school and, having identified dental hygiene as a priority, has provided funding to provide each child with their own toothbrush and paste for almost three decades.
"We had a real awareness that it was important, not just around Maori dental hygiene but just oral health in general," Mana Tamariki principal Brenda Soutar said.
The Ministry of Health 2015/16 New Zealand Heath Survey showed that of the 29,000 tooth extractions in children aged one to 14 years over a 12 month period, 19,000 identified as Maori or Pacific Islander.
A diet high in sugar combined with a lack of regular brushing, dental visits and environmental factors such as non-fluoridated water have been identified by the New Zealand Dental Association as key factors contributing to poor oral health in children.
Mrs Soutar said, alongside regular toothbrushing, the school had always taken a strict 'water-only' policy. The positive feedback they received bi-annually from dental caravan staff told them the scheme has made a real difference.
"They have always told us that, by comparison, our children's teeth are in great condition and that it is a direct result of our policies," Mrs Soutar said.
Though she had no idea how much money the school had invested over the years, she said the outcome far outweighed any expense. "It may be a bit of an investment for us but the truth is if you prioritise it, you will find a way and our Tamariki are worth every cent!"
Plunket in conjunction with Colgate and the NZDA have been providing toothbrushes and toothpaste to babies at their five-month-old visit since 2007.
They have also extended the programme to give additional brushes and paste to children at their Plunket B4 School Check at the age of four.
Dental checkups are free for all New Zealand children until the age of 18.
For more information visit healthysmiles.org.nz.