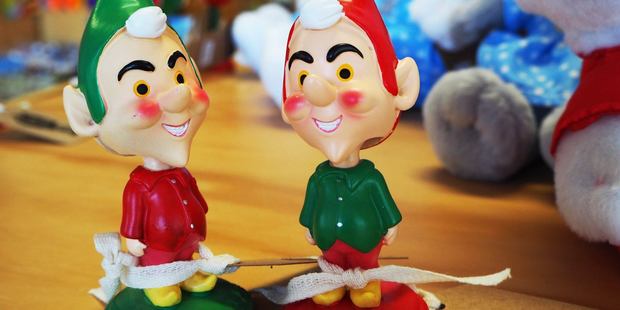 Te Manawa is in full swing for the holiday season with Santa's Cave open and enjoying a stream of visitors, both young and old.
It will soon be in its 100th year and Te Manawa is commemorating the occasion with a new set of unique keepsakes that have been specially designed to honour Palmerston North's favourite festive treasure.
The dancing kittens — a visitor favourite — have inspired collectable Santa's Cave plushies who have made their debut in the Te Manawa shop. They come in combinations of two fur and dress colours and would love to find new homes in Manawatū.
Santa's Cave wouldn't be what it is without its elves — they're the ones doing all the work, after all! In full keeping with the cave's kitsch spirit, Te Manawa has commissioned miniature ceramic bobble-head elves. Their cheeky grins would complement any home's Christmas decorations, and they look pretty good on an office desk too.
Te Manawa is always working hard to bring more of its collection into public display and has published a 2018 Wall Calendar. Each page features a unique toy from the Te Manawa collection, beautifully photographed and accompanied by a description and explanation of its significance.
This month the toys themselves are also on display so visitors can see the items in full 3D. They are a fascinating glimpse into play of the past.
Proceeds from these special Santa's Cave souvenirs, which also include festive Monkey Band T-shirts, go towards the future development and preservation of Santa's Cave.
Te Manawa will be closed on Christmas Day, Boxing Day and New Year's Day. Please see www.temanawa.co.nz/santa for Santa's visiting hours in Santa's Cave.