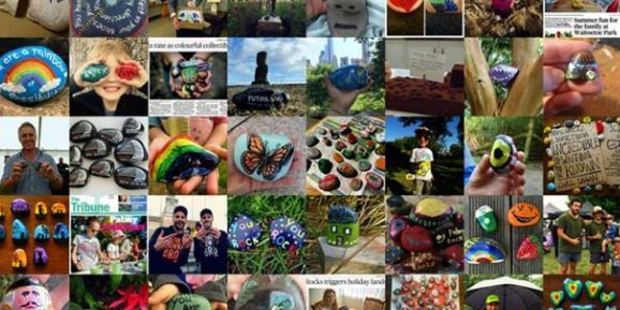 The phenomenon that is Palmy Rocks is celebrating its success with a photo exhibition.
More than 18,000 photos have been compiled to mark one year of rocking with thousands of children in the region and across New Zealand.
Co-founder and parent Heather Knox says she's surprised the initiative is still going after a year.
"It's awesome. What started as a Facebook group of six people has turned into something so much more. The ground roots level impact of something as simple as painting and hiding rocks in Palmy, and the country, has been amazing.
"Everyone has a Palmy Rocks story to tell."
Mrs Knox says painting the rocks has spread into other aspects of people's lives.
"Some in the community have found solace in painting rocks at a time when they've needed an outlet, others have found business and marketing opportunities.
"For me it has been am impetus to get out and explore nature and our wonderful parks while rock hunting."
She says people are captivated by the rocks because it allows people to share happiness and make memories while uplifting others.
"There's a perception there is nothing to do in Palmy, nowhere new to go and that we lack community spirit. The rocks are helping change that perception."
The exhibition, entitled We Are One, is supported by Palmerston North City Council as part of its Placemaking initiative.
Council planner Keegan Aplin-Thane says he's also astonished at the success of Palmy Rocks.
"This exhibition will show the sheer value this concept has created for families across the city, region and country.
"We're proud that a local has brought this to our doorstep.
"The Palmy Rocks group has had the biggest impact on getting families active and getting our parks used to date."
Palmy Rocks We Are One exhibition, opens Sunday at 2pm, Us. Studio, 188 Cuba St, Palmerston North. Runs until August 27, open 12pm - 2pm daily from Monday.