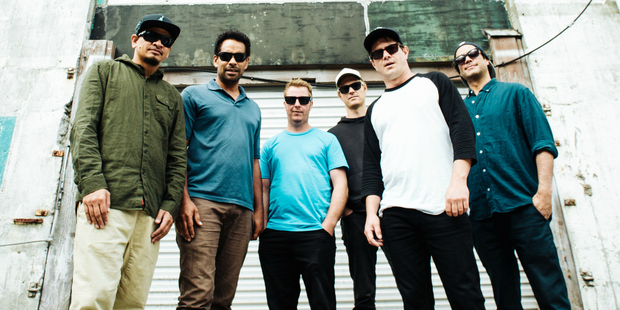 The Black Seeds are back with a new single, Freakin', and a new album and eight-date national tour in the works. We talk to frontman Barnaby Weir about a band described as one of the best live reggae acts on the planet.

1. Who are the Black Seeds? Describe the band and its sound in a few sentences.
The Black Seeds are NZ's favourite Pacific soul originals. The Black Seeds' music is like a musical remedy for everything but death. Progressive and conscious Roots, reggae, soul.

2. The band is nearly 20 years old. What are the main ways the band has evolved since the early days?
Since the early days The Black Seeds has evolved from what was more of a reggae dub party band into a refined songwriting powerhouse. We have six studio albums, one live album and two remix albums under our belt. We have developed into an international touring band from a small Wellington club act.
Our music pushes the genre boundaries more and more with each album.
And we've become a much better live act.

3. In fact you've been described as one of the best live reggae acts on the planet. For you is it more about performing live for fans or creating and recording the music?
For me, performing live is really important. To reach out to the fans and show we are current and still thoroughly entertaining live act. But I also love working on recordings and they will stick around forever so it worth doing it right. Both sides are really important to the life of the band.


4. Your new song Better Days has a positive message. Can you tell us a little about the story behind the song?
Better Days is a song I wrote and demoed at home one day/ night in 2015/16.
In all honesty, I was feeling pretty depressed about a few things in general but I was determined to persist on improving my attitude, make an awesome album with the new Seeds band line up, increase my income and work on my relationship.
I put a lot of pressure on myself in general and that turns to an emotional and creative frustration which often leads to making something meaningful. One day I wrote this song and it just flowed as if it writing itself.
I started with a beat that I had from a Roots Dub sample CD where an unknown drummer plays a whole take at a certain BPM and it comes as a 10-track bunch of audio stems with spring reverbs and separated channels. Basically it's perfect for making a demo with feel.
I first played the bassline in and then I doubled that with the rock steady sounding muted guitar riff - my favourite part of the song I reckon. Added a simple piano part thing, which helped with the glue of the melody and then I wrote out the lyrics fairly quickly.
"Better days are calling, lonely nights are leaving.
I see better days, are just around the corner.
No it won't be long till something good happens for ya."
It's a mantra and anyone who is struggling, to stay positive and not give up. To strive for what's important to you.
"I see better days, born inside your own mind,
better nights, made with love and kindness...."
"If we could only love each other with respect, Freedom. I felt it in my heart."
Then later we recorded the band version with Lee Prebble at Surgery studios, which is always easier when you have complete demo. Everyone in the band contributed some magic to the recording and then I spent the next found months tweaking it and making dubs with the band and Lee. I'm really happy with it as the Fabric album opener.
It's a fresh start for the band and a positive outlook for us all when times are tough.
The song started out being for me, but now it's everybody's ... cheers.
5. It's been a few years since your last studio album (2012's Dust and Dirt). What has been keeping you so busy?
We've been keeping busy with tours in Europe/Canada/USA/Australia/ Brazil and NZ as well as writing songs, which takes a while. The guys also have busy family lives.


6. What's the story behind the name of your new album, Fabric?
The fabric refers to the fabric of our lives, the fabric of our love, the fabric of time in the fabric of our existence.

7. What's your favourite song to perform live and why?
Turn It Around because it's very dramatic and emotional with a powerful resolve at the end and a huge heavy dub section.

8. You've toured extensively. What could upcoming New Zealand musicians learn from the overseas experience?
Sleep is important, focus all your energy on the gigs not the booze, don't be a grump, learn to say nothing, be a part of a great team, nobody cares if you're tired and hungover. Just be awesome every night.

9. What's the most exciting thing about New Zealand music right now?
The Latest Black Seeds single... Freakin'.

10. You're curating a music festival. Who's on the bill, alive or dead?
James Brown, Jimi Hendrix, Nina Simone, JJ Cale, BB King, Shihad, Katchafire, The Black Seeds, Sunshine Sound System, Tunes of I, AC/DC (original members), Al Green, Otis Redding, Eagles of Death Metal, The Orb, Rhythm and Sound, Jah Shaka, Sly and Robbie.
The album Fabric is out September 8. The tour begins in Raglan on September 21 and takes in Auckland, Mount Maunganui, Wanaka, Dunedin, Christchurch, and two gigs in Wellington. See www.theblackseeds.com for details.