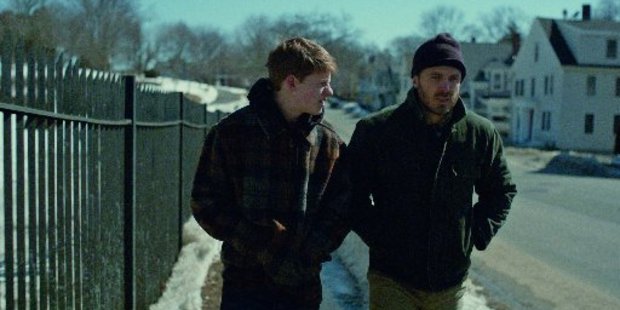 It is seldom we see a film filled with the painful and irreversible injustice of life. So often, the knight rides away with the heroine on his trusty white steed.
Kenneth Lonergan's new study of grief and broken lives serves us up a plate of cold, hard reality. This is a masterpiece in a minor-key.
Though languid at times, it is worth persevering - as this is a film that does not shy away from the harshness and fragility of the human experience.
Lee Chandler (Casey Affleck) is a janitor, living in Quincy, Massachusetts, who is seething with rage.
Rage directed at both the world, and himself. Lee is forced to return to his hometown - Manchester-by-the-Sea - after the death of his brother Joe (Kyle Chandler).
To his astonishment, he is told that he is now the legal guardian of his brother's teenage son, Patrick (Lucas Hedges).
Affleck and Hedges deliver powerful performances - as both men try to navigate the intricacies of family relationships, and of loss.
Lee is a man broken down by his own demons.
Though the story is set in the present, we see flashbacks to his marriage to Randi (Michelle Williams) - and discover the reason for his depression-filled rage.
A drunken Lee lit a fire in his home to keep his family warm, before stumbling out into the night to fetch alcohol. The uncovered fire ravages his home, and he returns to find his wife rescued, but his three young children trapped inside.
How does one cope with this grief? How can one forgive oneself for this error?
The pain felt between Williams and Affleck when they meet and reconcile near the end of the film is incredible. Two incredible actors giving their all to this piece.
Cinematography is bleak, as it should be, however there could be more variety of shots - and the opening shots felt somewhat unsteady. This depiction of broken lives, death, grief, depression and complicated relationships is well worth the watch.
Manchester by the Sea
Drama | R13
136 minutes