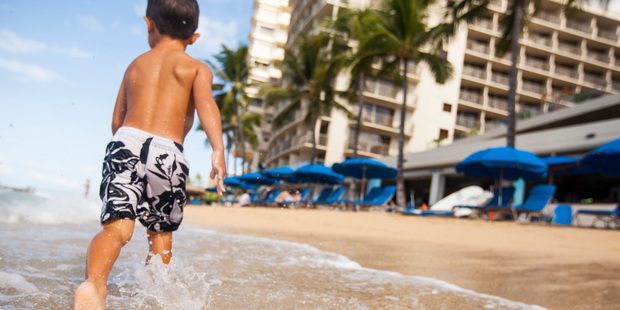 I'm guessing most families have a favourite holiday destination - near or far, rustic or exotic, a place they return to repeatedly, building special family memories.
For our family that place is Hawaii, more specifically Waikiki and the Outrigger Reef Resort.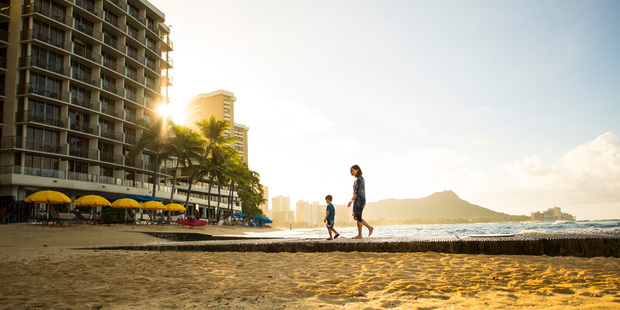 One of only seven waterfront resorts along Waikiki Beach, Outrigger Reef remains distinctly Hawaiian. From the time your walk into the front foyer you couldn't be anywhere else, and you wouldn't want to be.
The welcome is every bit as warm as when we first visited 10 years ago and, while keeping up with the times, Outrigger Reef never loses touch with its rich heritage.
The resort is not about razzle dazzle, it doesn't try to win you over with glossy marble.
It's all about quality and comfort, the service from its wonderful staff and maintaining that Hawaiian flavour.
Subtle but welcome new refinements to the Outrigger experience were evident from the time we booked in, with new guests now welcomed with a glass of guava juice and a cool face towel.
The Outrigger group is continually enhancing its services, with a strong focus on the cultural connection for each of its hotels.
For Outrigger Reef that means offering an array of free activities which allow guests to connect with Hawaii's traditions and heritage. These include hula and ukulele lessons, and lei making demonstrations.
The sounds at Reef will also keep reminding where you are as all the musicians who play each day at the poolside Kani Ka Pila Grille are Hawaiians who include traditional Hawaiian music in their sets.
Time at the pool listening to enchanting music with cocktails and a bowl of fries is one of the things we look forward to at Outrigger Reef.
And for those guests who also enjoy an early evening ritual of refreshments and light snacks while musing over another fun day in paradise, the Reef now offers a club lounge for guests in Voyage 47 Oceanfront rooms and suites.
Our group of five thoroughly enjoyed the hospitality we received at Voyager 47, which comprises a lounge area with television, a variety of seating options and, more importantly, a large beachfront deck (one storey up from the beach) with comfy sofas and table settings - all perfect for taking in the beautiful sea vistas and sunsets.
Each night, between 5pm and 7pm, the Voyager hosts offer a selection of beers (from Big Island brewing company Kona) and wines, a local cocktail and a tasty range of snacks, including paninis, kebabs, chips and dips and fresh fruit.
Voyager 47 also opens for breakfast each morning from 7am to 10am. There was an impressive range of options on offer, with a selection of cereals, breads, croissants, fresh fruit, yoghurt and a different hot dish each day ... we were spoilt for choice.
Having breakfast each morning on Waikiki's doorstep was something special and had us itching to get to the beach for a swim.
Our routine was to enjoy some time in the sea and then retreat to the beautiful Reef pool for another swim and time in the sun. And there's the beauty of Outrigger Reef. Only a short stroll separates you from the beach, the hotel facilities and excellent shopping and bistros and bars of central Waikiki.
When people ask why we like returning to Hawaii, the answer is simple - in a few minutes you go from island paradise beach time to all a big city has to offer. That's why we keep on returning every chance we get.