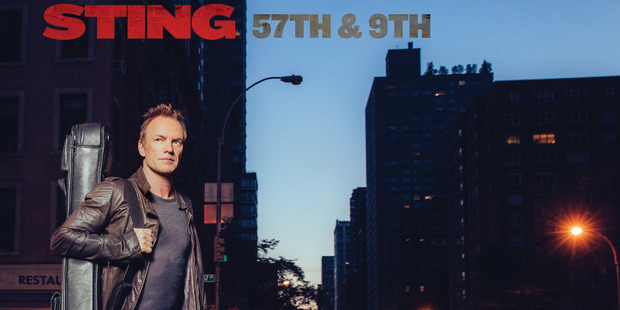 If it seems like a long time since Sting delivered a rock album, it is.
Mr Sumner was the mainstay as the bassist, singer and primary song-writer for the Police, who had a fairly short shelf life between 1978 and 1984 when he went solo.
Since then he's thrown all sorts of persona at us, from Middle Ages minstrel to pop star, and as a collaborator with artists as diverse as Miles Davis and Tina Turner.
He's also recorded and performed with an orchestra under the title Symphonicities including concerts in New Zealand.
Perhaps his last full-on pop/rock album was 1999's excellent Brand New Day.
57th & 9th then has been well worth the wait, and very reminiscent of Sting's contributions to the Police's impressive catalogue.
As you would expect from Sting, the lyrics are meaningful and tell stories, for example 50,000 was written the week that Prince died and is Sting's tribute to him, Glenn Frey, David Bowie and Motorhead's Lemmy.
He also gathered together a stellar studio band whose input can only be admired.
Stand-out tracks for me are 50,000, Heading South on the Great North Road, and the mystical-sounding Ishallah.
I would also encourage you to buy the deluxe version of 57th and 9th, for the outstanding last track, a live version of Next to you with the Last Bandoleros.
Welcome back Sting, you're in fine voice, and this album shows that you're not content with selling 100 million already.
Rating: 4/5 stars