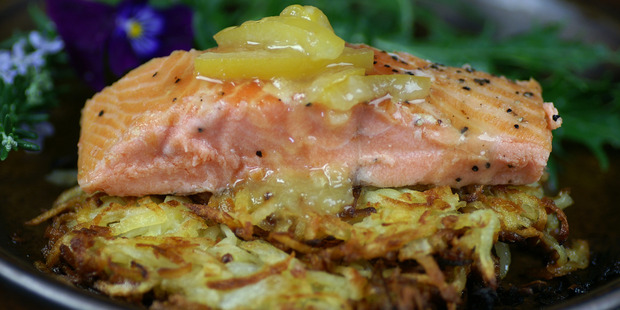 Carrots, parsnips, turnips and swedes are some of the most nutrient-dense vegetables we can enjoy.
Growing underground, they absorb a high number of nutrients from the soil, including antioxidants, vitamins A, B and C and iron.
They also contain slow-burning carbs that help control blood sugar levels.
Winter is the season when root vegetables are plentiful, with the exception perhaps of beetroot.
It's a time for roasts and bakes, soups and warm salads - comfort food.
PARSNIP ROSTI WITH SALMON
Parsnips belong to the carrot family and have been grown in Europe since Roman times. This dish makes an excellent light brunch.
INGREDIENTS
400g parsnips, peeled & shredded
300g waxy potatoes, peeled & shredded
1 small onion, diced
1 large egg, lightly beaten
salt & pepper to taste
5-6 Tbsp rice bran oil
300g hot smoked salmon
METHOD
Combine shredded parsnips and potatoes in a sieve and press out any liquid. Place in a large bowl. Add the onion, egg and seasonings. Heat a little of the oil in a large non-stick frying pan.
Take cups of the mixture and place in piles in the frying pan. Press down gently. Cover for 1 minute. Remove the cover and cook until golden on the base. Turn the rosti over and cook the other side until golden. Place on paper towels to drain. About 4 rosti can be cooked at one time. Repeat until all the mixture has been cooked.
Divide the salmon into four equal portions. Place the rosti on four serving plates topped with the salmon.
Great served with a lemon pickle or hollandaise sauce and lemon wedges. - Serves 4
HEARTY CARROT & GINGER SOUP
Ginger is a root vegetable grown in tropical climates.
INGREDIENTS
210g packet King Gluten-free Vegetable Soup Mix
9 cups hot water
5cm piece root ginger, peeled & thinly sliced
500g carrots, coarsely shredded
METHOD
Place the soup mix in a large saucepan and add the water and ginger. Bring to the boil and simmer for 45 minutes. Add the carrot and continue cooking for 30 minutes until the soup mix and carrot are tender.
Serve topped with a little freshly shredded carrot. - Serves 6-8.
CHILLI-ROASTED SWEDE
INGREDIENTS

1 swede, about the size of a cricket ball, peeled & cut into 3cm cubes
2 Tbsp olive oil
freshly ground salt & black pepper to taste
1 Tbsp brown sugar
1-2 tsp chilli paste
cup coriander chopped
METHOD
Preheat the oven to 200°C. Toss the swede in the olive oil in a small roasting pan, then season.
Roast for about 35 minutes, stirring often, until golden and tender. Stir in the brown sugar and chilli and continue roasting for 10 minutes.
Stir occasionally. Stir in the coriander and serve. - Serves 4 as an accompaniment
TURNOPIA
Use young washed turnips for this raw salad served with goat's cheese and herbs.
INGREDIENTS
4 fat cloves garlic
250g soft goat's cheese
2 Tbsp olive oil
flaky sea salt and freshly ground black pepper to taste
250g small white turnips, thinly sliced
1 Tbsp red wine vinegar
Garnish: finely grated rind 1 lime
1 Tbsp each: toasted sesame seeds, thyme leaves, chopped
coriander or mint leaves
extra virgin olive oil
METHOD
Place the garlic in a small bowl and microwave for 30 seconds. Peel then mash and combine with the goat's cheese and 1 tablespoon of the olive oil. Season. Toss the turnips in the vinegar and remaining oil then season with salt and pepper.
Place the goat's cheese mixture on four serving plates. Top with the turnips then garnish with the lime rind, sesame seeds, thyme and coriander or mint then drizzle with a little olive oil. - Serves 4