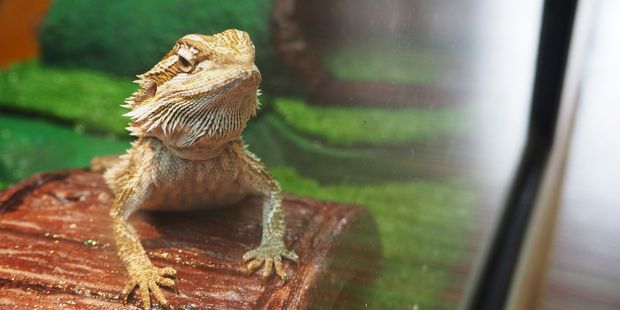 Visitors to Te Manawa may have met Ahi, our bearded dragon, who lives in a small enclosure in KidsTM.
Live exhibits present a unique challenge to museums.
"Beardies", native to Australia, are particularly chilled out and hardy, but nevertheless a lot of work has gone into making his environment as comfy and stimulating as possible.
Ahi's tank is designed with his needs foremost in mind.
The different lightbulbs provide him with the UV light wavelengths and temperatures he needs.
He might sit close to his heat lamps first thing in the morning as he warms himself up for the day ahead, before cooling off in the afternoon.
He doesn't play like mammals, but he still requires enrichment. When you're a reptile, this comes mostly from your environment.
Choice and variety are the most important sources of this. Ahi has two places that he can retreat to to feel safe: his 'hobbit hill' down one end of the tank, and the cave at the other.
Each creates a temperature change so he can go where it's most comfortable.
The tank's verticality, from its floor all the way up to the top of the castle, and variation in materials, which provides different textures to interact, offers valuable enrichment and exercise for him.
The twigs of his forest serve a double purpose. When he is shedding his skin you may see him using them to scratch himself. They are perfectly suited to get every little itch!
Ahi's tank décor is modular, so it's easy for us to create new sections and swap them. His tank will keep changing and enriching his environment throughout his life.