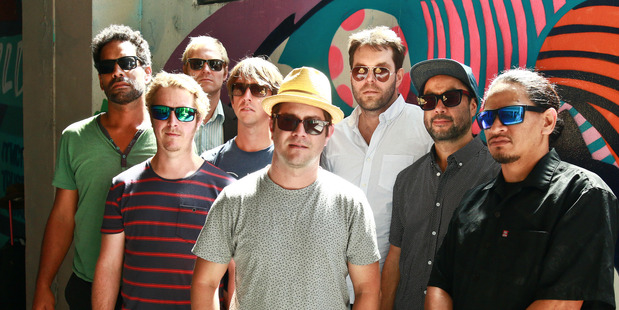 Fresh from a supporting performance for Jack Johnson during his visit to Auckland last week, popular New Zealand ensemble The Black Seeds will headline Kapiti's summer Coastella Festival. Talented original band member and lead vocalist Barnaby Weir took the time to speak with Kapiti News reporter Cloe Willetts about their latest album Fabric, the band's recent international success, and what audiences can expect from February's much anticipated performance.

Firstly, what have you been up to today? What does an average Wednesday consist of for Barnaby Weir?
Well as it happens, I flew to Auckland to perform with some of the band on 7 Days, the TV show. That's obviously a bit unusual. But I have a range of jobs that keep me busy including making music, booking and helping with a family business, interviews quite often and band admin.
You previously lived in Kapiti. Where are you located now and do you still spend much time here?
I lived in Raumati South for a year back in 2008. It was a beautiful spot to live, right on the beach opposite Kapiti Island.
I remember the time fondly but it was almost too good to last. I currently live in Oriental Bay, which is also pretty special and currently looking magical with all this amazing weather.
Who are the core members of The Black Seeds other than yourself, and what talents do they bring to the band?
Jarney Murphy is on drums. He's not only a solid guy and a great friend but also a solid and talented drummer. He cares about every song and each performance. He wants the groove to be tight and loose in all the right places, and is basically a human metronome with feel.
Daniel Weetman is on vocals, percussion and samples. Daniel is my brother from another mother. Both of us have been in the band 19 years. He brings a high energy performance every time and writes thoughtful lyrics from the heart, worn on his sleeve.
Ned Ngatae, on the guitar, is an accomplished guitarist and DJ. He can play a range of styles and really knows a lot about music in general. He pays attention to detail and keeps us on our toes but also brings a mellow vibe to the team.
Francis Hariwera is a killer bass player - solid as a rock and has a heavy tone. Fran is one of the more quiet guys in the band but when he's on stage and with Jarney, he sets up a huge sound for the seeds.
Nigel Patterson plays keyboards and has a huge knowledge of organ and keys tones. He's one of the most positive and optimistic people I know. He's never afraid to try new things. Nigel puts a certain kind of musical Zen into everything he does. He's a lovely man.
What an achievement it was to have your song One by One make the Breaking Bad television series. How did this come about?
Basically the people in charge of the BB music came across One by One and obviously pushed for it to be placed on that specific scene. Our publishers would've had a hand in getting it to their desk I'm guessing too. We were just lucky getting on there. The money was pretty good as far as licenses go but the real value was obviously making fans in America and around the world through this unlikely and fortunate license. Of course we were all chuffed about it!
How does your most recent album Fabric differ or resemble past albums in terms of style and conceptual themes?
Just like all our albums Fabric is a complete piece of art. Of course it sounds like the Black Seeds but it has a refreshing sense of direction musically, we believe. We also worked hard on this one and everybody was contributing on the writing. With Ned and Fran in the band, it has some different inspiration and vibes to it. I'd say it has a cool modern retro thing happening with a bunch of interesting synth and keys sounds, and a depth of layering.
So yes, Fabric sounds different to our other album as it should, but still has the recognisable Seeds' heritage sound embedded in it. We are happy with the end result overall and are enjoying playing the new songs to our fans.
What did you and the band enjoy most about making this sixth album?
It was that feeling of working together on the music in the studio (most of the time). Throwing ideas around and trying new tones was really fun too. We did however get a bit fatigued with it all, and we took too long for lots of good reasons. In the end we know we gave it everything and we can all be proud of it. We love working with Lee Prebble at The Surgery. He's so creative and so patient with us all coming at him with different ideas. He was the anchor when we were all a bit tired or off track. Legend.
Are you still close with Bret McKenzie, who was originally in The Black Seeds with you?
We are still mates but only catch up about once a year. A wonderful man is Bret, but very busy with family and his projects. It's always good to see him.
What else have you been up to this year?
Mainly lots of music, studio time at home and also working for the family cocktail bar Poquito, located at 11 Tory Street in Wellington. I have a playlist for New Zealand on Air Spotify, and I'm an ambassador for Te Auaha, the new creative arts HQ in Cuba St, too. Also I was recently a judge at the incredible Bright Lights youth music competition in Paraparaumu.
Why did The Black Seeds choose to perform as part of Coastella?
We were stoked to be asked to play Coastella! I've not been before and I hear it's an awesome festival. I think it's cool that the coast has a new music festival. It's a great idea and bringing a range of local and international bands to the region will only have a positive effect on the community and local businesses.
What can audiences expect from The Black Seeds' performance?
A deep, high energy performance from the heart and soul. We don't mess around… until after the show. We'll be playing a bunch of new songs from Fabric and older tracks from all our previous albums.
Anything else you'd like to add?
We supported Jack Johnson the other day for his concert in Auckland.
He's such a lovely guy and we got to play in his band for a couple of songs. It was all a bit of a surprise sitting next to him and jamming with him. His band was really cool guys and they're all good musos - so relaxed and warm. It was a bit of a recent highlight for the guys.
¦ Coastella is taking place at Southward Car Museum, Paraparaumu, on Saturday, February 17. For tickets and more information visit www.coastella.co.nz.