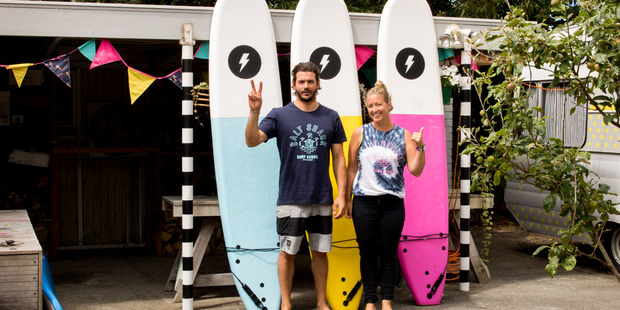 One of New Zealand's top surfing champions has co-launched a new surf school in Kapiti.
Current Wales National Champion and European Champion Jay Quinn, who stepped into fulltime professional surfing at 18, opened Salt Shack Surf School in Waikanae Beach last week, alongside his sister and fellow surfing title-bearer Holly Quinn.
With a collection of national and international titles between them and Maz Quinn as an older brother - a four-time New Zealand national champion and international surfing frontrunner - surfing is a family affair for the Gisborne raised duo.
Together, Jay and Holly are giving locals the chance to up their skills this summer or to learn the basics of surfing, including water safety and equipment knowledge, and standing and riding waves.
"Kapiti has very diverse surfing conditions and beaches, all within short driving distance," said Holly, a volunteer at Waikanae Surf Club.
"It's a great beach to learn on and we'd love to encourage more people into the water."
Jay, who appeared on New Zealand's Celebrity Treasure Island series, was the country's first surfer to claim a world title in 2001, when he won the under-18 final at the World Junior Championships in New South Wales.
The win came three years after Holly secured second place at the World Junior Champion in Indonesia - one of over 10 international surfing events for the mother and local designer.
In 2013, Jay took out the New Zealand Surfing Championship title at Piha, securing the third national victory of his career.
Having grown up in Gisborne - the epicentre of surfing - Jay and Holly started competing in surfing from a young age, with encouragement from their father, then-president of Surfing New Zealand.
"Mum was also involved in a women's surfing programme called Women on Waves.
"Within our neighbourhood we had over 20 of us, siblings, on the same street surfing together.
"It was something we did every day after school."
Now, with a goal to make surfing more prominent on the coast, the siblings are running their multi-level classes until April 2018, for children and adults.
"We are open to running courses within local schools and community groups and would love to see a Kapiti surf team in the New Zealand schools competition.
"Surfing is a great way to spend the summers.
"It gives confidence to both adults and kids in the ocean and a greater appreciation of the environment that surrounds us.
"It's also a lifetime hobby that all ages can enjoy together and carry on into the future."
¦For more information visit www.saltshacksurfschool.com.