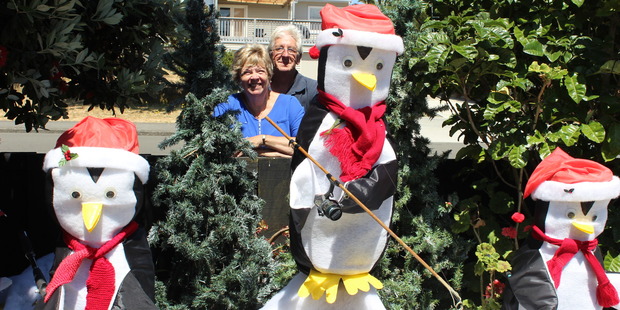 Once again Lew and Denise Davis' front yard in 57 Donovan Rd, Paraparaumu, has been transformed into a Christmas wonderland.
People are invited to visit the yard, open from tonight until Christmas Day, between 8.30pm to 11pm, to see the effort the couple has put in to bring the festive spirit to the community.
And on Friday December 15 Father Christmas will be making a special appearance at 8.30pm.
The yard features Christmas carols, animated elves, reindeer, polar bears, a mail box where children can post notes to Santa, and lots more.
"We have made a couple of new displays this year including a polar bear's lounge and next to it is the polar bear's children's bedroom," Denise said.
"And we're also hoping to have a clock tower when people come down the drive."
The couple have been transforming the yard in the lead-up to each Christmas for about 15 years.
"I love the craft side, including making the polar bears, penguins and things," Denise said.
Lew, a retired computer engineer, said liked the mechanical side and "getting things to work".
He said there was 105 electric motors in action in the displays.
The couple enjoys the happiness the yard brings, especially smiles on young faces.
The yard also features a donation box with proceeds going directly to the Child Cancer Foundation.
About $2000 is raised each Christmas for the foundation now that the yard has grown in popularity.