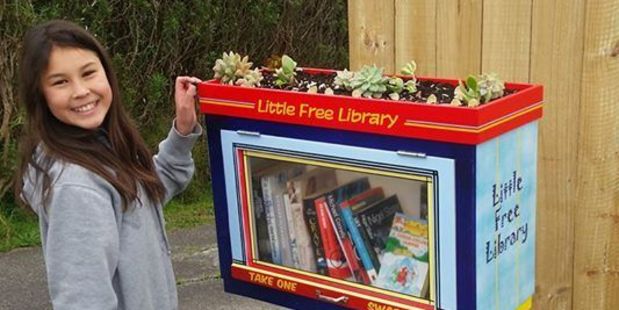 A colourful new addition to Raumati Rd is turning heads as well as pages, thanks to the efforts of a local librarian.
The Little Free Library was installed between Matai Rd and Hillcrest Rd this month thanks to Raumati Beach mother Nisa Promchot, who wanted to encourage Kapiti Coasters to read, borrow and share books.
Ms Promchot, who works at Paraparaumu Library, said feedback from the community had been positive since she posted a photo of the library on the Raumati Community Info Facebook page.
Along with gathering adults and children's books and some written in Te Reo, the Free Little Library had attracted visitors because of its eye-catching design.
After going up on the evening of Saturday, May 6, and left overnight for the concrete to set, the library was officially opened at 10am the next morning.
Friends of Ms Promchot, Sue Wall and Julianne Alve, made the box over a few weekends, using recycled materials including a bathroom window, a few treated timber pieces from home and posts from Mitre 10 MEGA Kapiti.
The colourful addition is waterproof and stands on two sturdy posts with a concrete base, hosting succulent plants on its roof.
After a few final touches of paint, the box was filled with books from the trio's personal collections, as well as donations from members of the public.
"It can hold around 20 books and people are taking them and donating others all the time," Ms Promchot said.
"If you have books to donate, please add a few books at a time, and we ask people not to leave big bags of books by the library as they might get wet or damaged."
Ms Promchot, who has worked for Kapiti Coast District Libraries almost 10 years, said the library was in an ideal spot because of its proximity to schools and the nearby Raumati Village.
"A lot of people also walk or bike down the road to the park and beach every day."
Her 10-year-old daughter Rayna, a student at Raumati Beach School, now had the role of keeping the Little Free Library tidy and well stocked.
"The library is showing her the value of giving back to the community. I set up the library as a person who loves books and as a mum who wants to encourage young readers to read more. At work we provide resources to our community, and I saw an opportunity to do this from home too."
Following Ms Promchot's post online, people were calling for similar little libraries in Waikanae and Paekakariki.
"We've had a great response and many people have stopped by and used the library since we opened it, which is lovely," Ms Promchot said.
"Thank you for all the support and kind comments from the community and please feel free to take, borrow or swap books from the library."