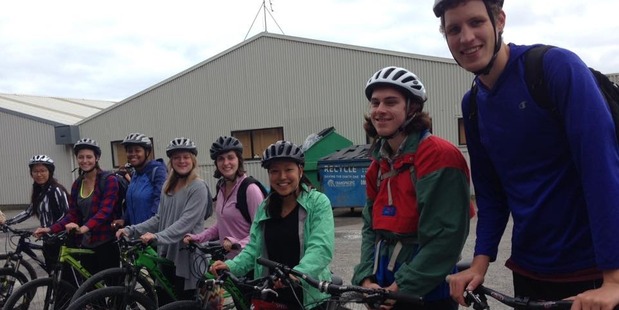 A large group of university students have enjoyed a day out exploring parts of the district on bicycles.
The trip comprised 26 students from the Institute for Study Abroad Butler University, a not-for-profit organisation where students study abroad for a semester or more.
"It took a lot of organising but all of the operators worked together to pull it off," said Hannah Hutton, who is a student services coordinator for the Wellington and Palmerston North areas of the university.
"My first point of contact was with Carmen Ashton, a visitor consultant from i-SITE Kapiti, who told me about a few things on offer in the district and suggested both Michael Peryer, from Waikanae Estuary Bird Tours, and Brett Irving, from Adventure Kapiti.
"I got in contact with them and it was smooth sailing from there.
"The day itself was fantastic.
"We caught the train out to Kapiti from Wellington and Brett met us at the Paraparaumu station and we walked to Avanti Plus to pick up the bikes.
"We spent a few hours on the old and new bike tracks along the Waikanae River and stopped for lunch at a beautiful rocky spot by the river."
The group then pedalled to the Waikanae estuary to meet Mr Peryer.
"He walked us around the reserve and told us about the stories of the bird life.
"His commentary was both engaging and humorous, and the group was captivated by the love story of Henrietta the bird.
"He clearly has a lot of knowledge from his 30 years of living by the water.
"The students also enjoyed reading his newly published book about a seal named Sammy.
"We then went to the beach and dipped our toes in the water which was a nice time to relax and unwind.
"We hopped back on our bikes and went to the Tuatara brewery [in Paraparaumu] to finish the day with an educational brewery tour and beer tasting which was amazing."
Hannah thanked everyone who did everything to ensure the trip went as smoothly as possible.
"It was nice for me because I actually felt like I could relax and enjoy the trip.
"We will definitely be back."