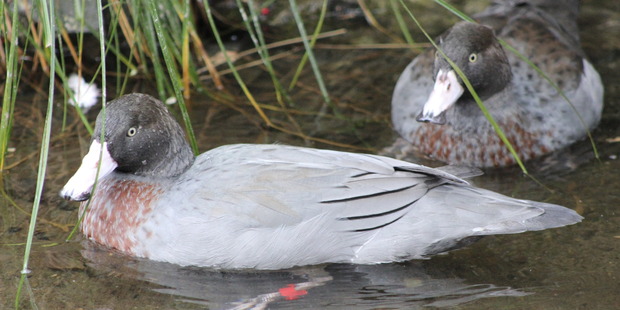 Two new arrivals are getting acquainted with their new environment at Nga Manu Nature Reserve in Waikanae.
A young male and female blue duck, also called whio, have come from Pukaha Mount Bruce National Wildlife Centre, where they were hatched in captivity from wild eggs.
The young birds were then flock-mated, where the female selected her mate.
Yesterday the pair, aged about 16-months-old, were transferred to Nga Manu Nature Reserve and placed in an enclosure featuring a few ponds, running water, and lots of greenery.
The pair seemed happy with their new abode and were paddling in the lower pond in full view of the public, instead of hiding away at the back of the enclosure.
"Fingers crossed they are going to be a very good advocacy display bird where people can get close to them and learn more about the species," Nga Manu Nature Reserve manager Matu Booth said.
It is hoped the pair will have lots of offspring over the years, with many of their ducklings expected to be taken to a "hardening" facility in Turangi before being released into wild sites in the North Island once they are match fit.
Nga Manu and Mt Bruce are two of a number of wildlife centres throughout the country who have a long-term commitment to assisting with the captive breeding of blue duck for coordinated release into the wild to boost the species' population.
Blue duck, who reside in and around running water, are a critically endangered species who are threatened by predators, mankind, and natural disasters.
"There are less than 3000 of the species remaining," Mr Booth said.
"And it's mostly because their habitat is so under threat."
"This is an important conservation effort for us to be involved in."
Pukaha Mount Bruce conservation manager Todd Jenkinson said the species were eye-catching.
"They are such a good advocate for duck species because they are such a stunning looking bird.
"And they are on the $10 note of course."