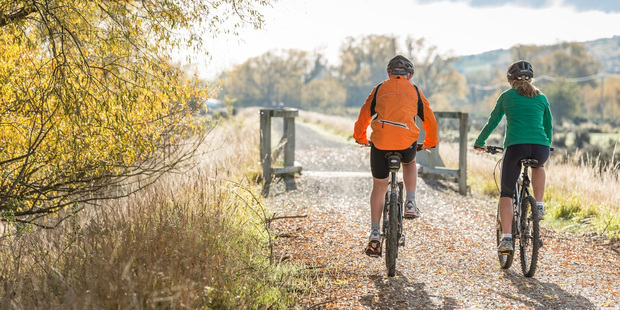 New Zealand's Favourite Places to Ride competition has opened, giving New Zealanders the chance to nominate their favourite rides.
Now in its fourth year, the competition is getting bigger and better, with new categories.
"We know that 56 per cent of urban adult New Zealanders ride a bike on a regular basis," says NZ Transport Agency national cycling manager Dougal List.
"This year we are looking forward to discovering where they enjoy riding their bikes the most."
Last year the competition received more than 12,000 nominations.
This year, the competition has a new Top Town award, which will go to the city or town that receives the most nominations across all of the categories.
The transport agency has also added a new category to celebrate all of the great community facilities, including Bikes in Schools tracks and community bike parks, that help support new riders and let more New Zealanders experience the joy of riding a bike.
"Through Kiwis sharing their favourite cycle routes and tracks it helps encourage more people to get out on their bikes and discover new rides in their community and around New Zealand," Mr List said.
Last year the Otago Central Rail Trail took out the supreme award.
Otago Central Rail Trail Trust facilitator Clare Toia-Bailey says they were absolutely thrilled with the honour.
"We knew we were up against some fierce competition, so for our trail to come out on top was quite an achievement.
"Winning the award has been a great promotion for our trail and an endorsement of the work of so many people that contribute to the trail being a world-class experience."
She likes to think somewhere in Otago has a good chance at taking out the new Top Town award.
"I think we have shown we are capable of punching above our weight and we hope that some of our supporters that live in the bigger cities and towns nominate us. The competition is a fantastic way to acknowledge all of New Zealand's beautiful rides.
"New Zealand has some of the best places to ride in the world and we want to encourage as many people to nominate their favourite."
Nominations will be open until Wednesday, May 31 and the winners will be announced in early June.
The categories for this year's competition are:
¦Urban ride (this category recognises rides around your town or city including new urban cycleways and shared paths)
* Nga Haerenga - The New Zealand Cycle Trail ¦Off-road or adventure ride (This category recognises off-road trails and mountain bike tracks)
* Community facility (eg Bikes in Schools tracks, community bike parks and velodromes)
Simply by taking part Kiwis go in the draw to win their share of $1000 in bike shop vouchers.
Favourite Places to Ride is part of the Government's commitment to making cycling a safer and more attractive transport option for New Zealanders. Through Kiwis sharing their favourite routes it helps to encourage more New Zealanders get out on their bikes and discover new rides in their community and around New Zealand. To nominate your favourite places to ride, visit www.nzta.govt.nz/favplaces.