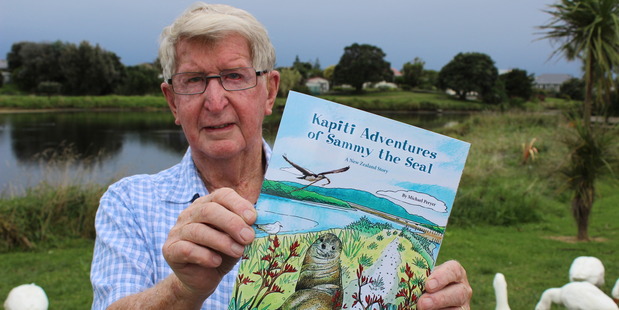 Michael Peryer, who leads bird spotting tours around the Waikanae estuary area, has released a children's book.
Kapiti Adventures of Sammy the Seal features a fur seal who goes an adventure from Kapiti Island, where it lives with family, over to the Waikanae River area.
The adventure focuses on various types of marine life, bird life, land creatures and human interaction before the seal returns home to tell its family about its adventure.
Mr Peryer wrote the story three years ago but then put it in a draw.
"Then I had my 80th birthday and thought 'if I don't do something about it I'm going to run out of time'."
Thinking back to one of his many tours, he remembered Vanessa Owens, from Raumati Beach, who had told him she was an artist and enjoyed painting birds.
She had been on the tour to get some inspiration, he recalled.
"I needed an illustrator, and didn't know who to get, so I emailed Vanessa and asked if she would be interested in helping with the book."
The book features some photographs from Roger Smith, from Waikanae Beach, and has been printed by Precise Print in Paraparaumu.
Mr Peryer said the story is the first in a series of five.
"The story I wrote was about 3000 words, so it has been cut it down to five different books.
"The second one I've got written but I haven't got it illustrated.
"I'm waiting to see what happens with this [first] one."
A lot of the book extracts have been drawn from his monthly newsletter, which he has been writing for about 15 years, and which focuses on life in and around the Waikanae estuary.
People interested in buying a copy of Kapiti Adventures of Sammy the Seal, which is $20 a copy, can contact Mr Peryer via his website www.kapitibirdtours.co.nz