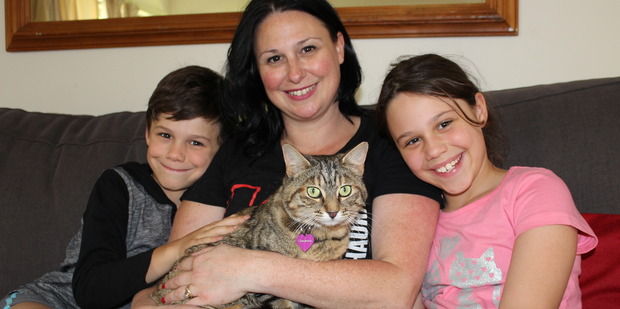 A cat called Cinnamon has been reunited with her Raumati Beach family after disappearing for 14 months.
Cinnamon, a short-haired tabby, was a year old when she joined the Leach family of Stefen and Nicole and their young children, Austen and Madison, from the SPCA shelter in Waikanae.
Cinnamon settled in well, despite suffering nasty injuries in a fight with a neighbourhood cat that took three months to recover from.
When the Leaches agreed to dog-sit a boxer cross, they weren't sure how Cinnamon would react, so she was taken to a family member's house in Paraparaumu.
But somehow Cinnamon managed to squeeze out of a narrowly opened window and disappeared.
Nicole Leach who checked Pets on the Net almost daily last year and started a six-month Facebook campaign to find the beloved family cat, remained optimistic Cinnamon would reappear.
"Because of the way she went missing, I always had a feeling she was going to crop up, especially because she was microchipped," she said.
And then on Wednesday last week, Wellpet Veterinary Clinic in Paraparaumu called to say Cinnamon was at their clinic.
Someone at Paraparaumu's Sevenoaks Retirement Village became concerned about a cat hanging around and an Access Homehealth employee brought Cinnamon, who was in tip-top condition, to the clinic. She was scanned and the microchip revealed the Leaches' contact details.
"I think we were all a bit dumbfounded," Nicole Leach said.
"But it was very exciting and there were a few tears."
When Cinnamon arrived home she knew exactly where she was and has been purring a lot and getting lots of cuddles.
She has also met the family's new additions, rescue cats Sonny Boy, from Kitten Inn, and Chakki, from Huha.
"She has made it quite known that she is the boss," Nicole Leach said.
Leach was still a bit shocked Cinnamon had been found.
"But I did have this feeling that I would see her again."