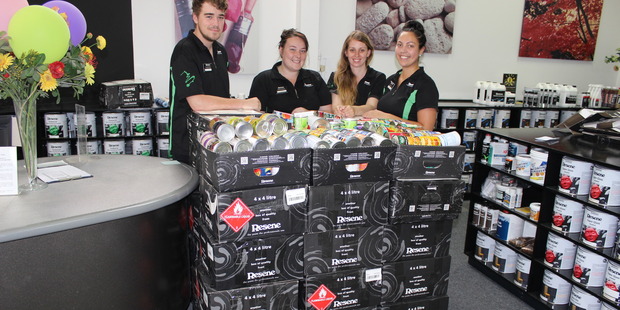 The Kapiti Community Foodbank shelves have had a stock injection of canned food, courtesy of an annual food drive by Resene ColorShop Kapiti.
Since February 1 people have been going into the Kapiti Rd paint shop and donating a can of food in exchange for a test pot of paint.
The collection has generated a staggering 2215 cans of food.
Store manager Merenia Patira said it was the third year the store had been involved in the Hunger for Colour campaign.
The first year 420 cans were collected, the second year 525 cans were collected, and now a whopping 2215 cans.
"It has been incredible," Merenia said.
"In the first three days of this campaign we filled three boxes, and calculated each box had 40 to 45 cans in each."
She thought the massive increase of cans might have been because a rock painting craze that many people were involved with.
People have been painting rocks and leaving them in various public places for others to find.
Two representatives from the Salvation Army, Lieutenants' Sarah and Andrew Green, collected the boxes of cans on Thursday and took them to the foodbank which is based in Magrath Ave, Paraparaumu Beach.