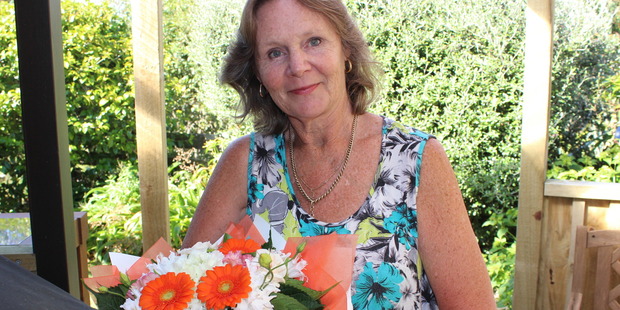 Z Energy has personally apologised to a Paraparaumu woman who became drenched in petrol from a split pump.
Ingrid Carson had started filling up a small jerrycan, with $10 worth of petrol, for her lawnmower, at the Kapiti Rd Z Energy service station, Paraparaumu, on Tuesday afternoon when petrol started showering down on her.
It appeared a petrol pump had been split after the user beforehand had accidently driven forward with the nozzle still in the fuel tank, which had pulled the hose and created a split.
"As soon as I had put my finger on the trigger, to put the petrol into my jerrycan, it all came out of the split and went over me.
"I dropped the nozzle and ran, and looked back and saw a huge gush of petrol pouring out full pressure.
"It was pretty scary.
A petrol soaked Ingrid said a staff member told her the station had been aware of a hose fault before her accident but hadn't investigated because they had been busy dealing with another customer.
"They gave me a coffee and a muffin, filled up my jerrycan, and I asked for some plastic to go on my seat, and they all said 'have a nice day' and let me drive off."
Ingrid got home, washed her hair outside several times on the lawn, then had a long shower inside using lots of shampoo, before ringing a Z Energy 0800 number to advise what had happened to her.
She pressed a button for 'incidents and spillage' and burst into tears telling someone what had happened.
A neighbour, who is a volunteer fireman, came over and she cut short the phone call when he advised her to get back in the shower.
Paraparaumu Fire Brigade and Wellington Free Ambulance soon arrived and helped Ingrid who by this stage was in a state of shock, before she rang Worksafe to report the incident.
Ingrid said her son Jonny put the incident on social media as well as Z's Facebook page, before each got a phone call from the company apologising.
"My son was very angry and furious they [Z Energy] had let me drive off.
"And the fire brigade guy told me they [Z Energy] had broken so many safety rules and should never have let me go.
"He said he would have wanted to put me under a 200 litre per minute shower there and then."
Two Z Energy representatives visited Ingrid on Wednesday and apologised for the incident, gave her a bunch of flowers, a petrol voucher and an offer of compensation for replacement clothes and stress.
"And obviously there will be an investigation and that their training procedures will be looked at and improved nationwide," Ingrid said.
Z Energy spokesman Jonathan Hill said a full investigation was underway into everything involving the incident.
"We didn't do a good enough job for this customer.
"We need to get to the bottom of what exactly we did do, why we did it that way, and what we could do differently next time.
"The whole point of the investigation will be to get to the bottom of that stuff and to make sure we're clearer around what our expectations are of staff in the event this occurs in the future."
The company had committed to sharing the results of the investigation with Ingrid once completed.
Mr Hill, who met with Ingrid, said the incident was serious and "the consequences could have been much worse".
He said the company believed a previous customer drove away from the pump with the pump still attached to their car, and managed to stop in time, but it appeared some damage to the pump occurred.
"And of course the next customer was Ingrid and there was a split in the hose which saw petrol on her which was very unfortunate."