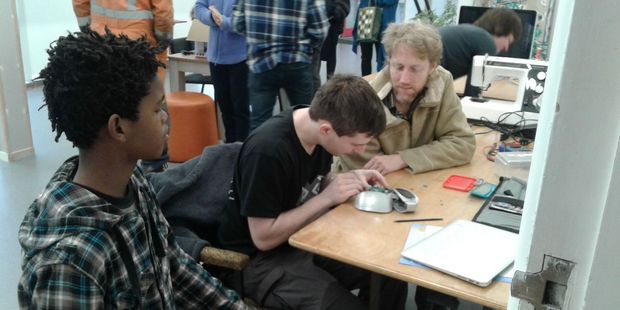 Eco Day Out, a family event running alongside the Frankton Market and BOON street art festival on Saturday in Hamilton launches EcoFest Waikato.
The festival, from March 10 to 25, aims to help you live more sustainably and connect with local groups who are restoring and advocating for our environment.
The calendar of events includes working bees, talks, tours and workshops. Eco Day Out festival launch from 9am to 1pm runs at at 32 Kent Street, Frankton.
If you would like inspiration or support to live lighter, attend Repair Co-op or Chain Link where volunteers help you fix small electronics, clothing, bikes, jewellery and more, at no charge.
As well as being great for your wallet, repairing your possessions reduces waste to landfill. The MAKE workshop will help you learn how to make your own chemical-free personal care and cleaning products.
You can declutter and freshen your wardrobe at the clothes swap and help Hamilton go plastic-free at a reusable bag sewing bee.
If you love to make preserves you will love the "jam session" being held by Community Fruit Pick.
Living lighter might mean considering the energy efficiency of your home, so there will be an Eco Home Design workshop on the calendar too.
While individuals can make a difference, the ECOFest organisers think it's important to advocate to local and central government, so you can have your say with the Hamilton City Council on their three priorities, nature — cycling and zero-waste or come to a talk to hear updates on efforts to address climate change.
If you enjoy walking around Lake Rotoroa and would love to see it cleaned up, you can head to a talk on the efforts of Restore.
Hamilton's restoration efforts are powered by hundreds, even thousands of volunteers each year, so EcoFest gives you the opportunity to connect with local groups who hold regular working bees in gullies and wetlands.
You'll also have the opportunity to be involved in community gardens or local initiatives for pest trapping.
OrganicFarms Waikato are holding a productive garden tour and composting workshop for ideas on how to use fewer chemicals and nourish the soil in your garden, and festival wraps down at another family event called Fairfest, with activities and workshops based on earth care, people care and fair share.
There is something for everyone in the EcoFest calendar.
For updates check EcoFest Facebook page www.facebook.com/ecofestwaikato