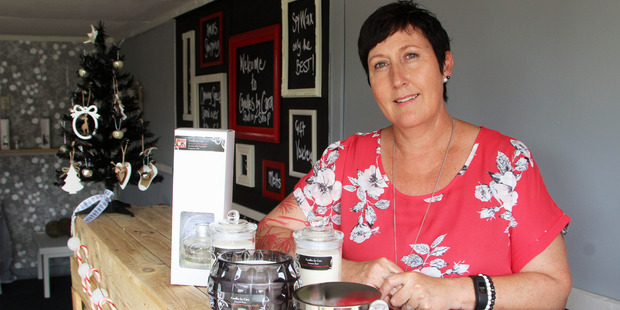 When Cara Tate had reconstructive shoulder surgery three years ago she didn't know it would lead to the start of a business.
But last Saturday she opened a candle studio/shop called Candles by Cara.
In 2014 Mrs Tate took time off work as an occupational therapist at the Waikato District Health Board to recover from surgery.
"I was missing being active at work and needed to find additional exercises to strengthen particular muscle groups in my shoulder," she says.
She started learning how to make candles.
In the process she spent time lifting items and stirring wax — movements beneficial for her recovery.
"I've always loved natural body care products and been concerned with the environment. So I started making soy wax candles for myself, family and as gifts for others.
"Everyone who got candles loved them so much and it started growing from there. Suddenly the business took off."
For the last year and a half she has sold her candles on Facebook, at local markets and through word of mouth.
She has sent candles all over the world including the UK, Germany, Australia and Norway.
Now she's taken the next step and opened a studio/shop in Kihikihi.
Her hand-poured soy wax candles come in a range of jars and have around 25 different scents — everything from black raspberry and vanilla to ylang ylang.
The candles can include essential oils at the customer's request and the wicks are zinc and lead free, which minimise toxins going into the environment, she says.
"I like to keep it as natural as I can."
Customers can also bring back their jar for a refill at a discounted price, even if the candle has been purchased elsewhere.
"My candles are affordable. I feel everybody should be able to enjoy a high quality product without it costing them the earth.
"The products I sell can be used in a multitude of places and are designed for many special occasions. You choose the glass jar, the fragrance, the essential oil and the colour and I will create your unique candle especially for you."
Candles By Cara is at 33 Hall St, Kihikihi. The studio is open Friday and Saturday 10am-2pm. Search on Facebook for @candlesbycara