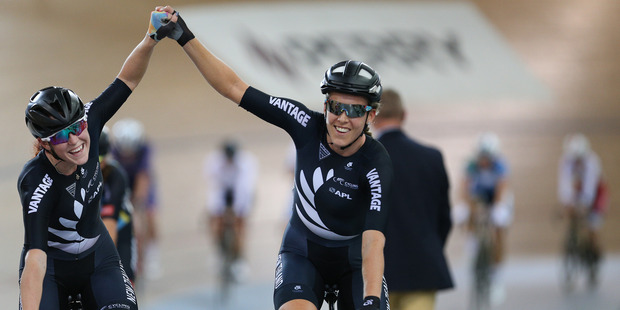 Te Awamutu Sports' riders Racquel Sheath, Rushlee Buchanan and Bryony Botha, along with emerging under-19 talent McKenzie Milne and Ally Wollaston were among New Zealand's star performers at the UCI Oceania Track Championships in Cambridge.
Sheath, Buchanan and Michaela Drummond (West Coast) backed up their opening day women's team pursuit victory by filling the top three places in the women's elite four-event omnium.
The New Zealand representatives were on form from the start with the experienced Buchanan showing her nous to win the 7.5km scratch race, while Sheath was one of three riders to put a lap on the field on her way to winning the 7.5km tempo race.
Queensland's Kristina Clonan took out the elimination in the final sprint, leaving Sheath with a four point lead on Buchanan going into the final points race.
Buchanan was all class in the points race, winning three straight sprint bonuses.
Sheath's speed gave her the final sprint to cement her win with 158 points overall, from Buchanan on 150 and Drummond on 124.
Importantly, it cemented a spot for a New Zealand omnium rider in February's World Championships.
"That is super-exciting for New Zealand and it's my first Oceania title in omnium so it is super-exciting for me too," said Sheath.
"I love this format. The bunch races are suited to me. The timed events used to be my downfall in the old format so this format gets me really excited every time I race.
"The key was racing smart, being on to it and trying to preserve as much energy as I could in those earlier races in the day."
Buchanan and Sheath had further success, placing third with 21 points in the women's 20km madison won by Tasmania (Chloe Moran, Danielle McKinnirey) with 34 points.
Bryony Botha placed second behind fellow New Zealand elite team rider Kirstie James in the women's 3000m individual pursuit.
James put the pressure on in the second half of the race to beat off top qualifier and teammate Botha in the final. James clocked 3:33.835 which was four seconds faster than her morning qualifying ride, with Botha a second back, recording her second personal best of the day. Botha took five seconds off her previous best to be top qualifier in 3:37.076.
Botha went one better winning the women's 10km scratch race from Australians Breanna Hargrave (South Australia) and Josie Talbot (NSW) who filled the minor placings.
Te Awamutu Sports' New Zealand elite men's representative Nick Kergozou placed third in the 1000m time trial won by Zac Williams (NZL) in 1:00.825, from Bradly Knipe (NZL) 1:01.489. Kergozou's time was 1:01.517.
A bevy of burgeoning talent emerged from both the under-19 males and females.
New Zealand's Ally Wollaston enjoyed a superb second night winning the 2000m individual pursuit, then won the double-points final sprint to claim the points race. She was fastest in the 2000m individual pursuit qualifying.
It proved an all-New Zealand affair in the junior women's 7.5km scratch race with McKenzie Milne prevailing ahead of Wollaston and sprint star Shaane Fulton.
McKenzie also won the bronze medal ride off in the women's 2000m individual pursuit. She then capped an outstanding championships by teaming up with Emily Paterson to win the women's 15km madison with 23 points, from Wollaston, Eva Parkinson (Waikato BOP) on 18 and New Zealand's Jenna Merrick, Samantha Donnelly on 17.
Two further Te Awamutu Sports club riders featured on the podium in the men's 4000m team pursuit. Jarred Treymane was a member of the second placed New Zealand team with Kianna Watts, Bailey O'Donnell and Finn Fisher-Black, while Lachlan Robertson's NZ team placed third. Australia were decisive winners of this event.