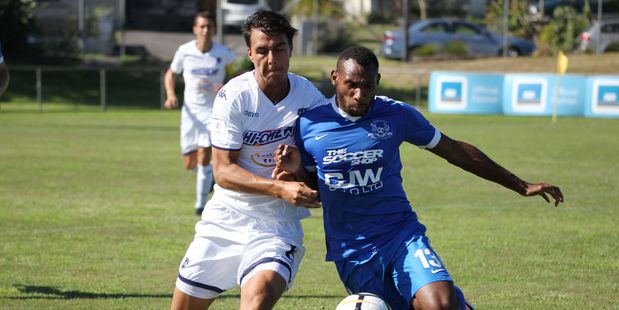 Wanderers have picked up their first win in the ISPS Handa Premiership, ending a 24 game winless streak.
The win came against Auckland based team Waitakere United who failed to capitalise on their own chances and now look likely to miss out on a top four playoff spot.
Wanderers have been winless since the start of 2017 in the National League under both Mark Cossey and Ricki Herbert, but the latter has finally picked up his first win in charge of the side.
Tommy Semmy, who has been a focal point for the team this season, put Wanderers up in the 18th minute after using his pace to beat the Waitakere defenders on the right wing.
Semmy was then involved again as himself and Armin Pasagic both had chances to give Wanderers a second goal in the game, but both shots were blocked.
Julyan Collett brought Wanderers back down to earth with an equaliser, before Waitakere took control of the game in the first half.
Keegan Linderboom, who scored against Wanderers in the reverse fixture, had several shots on goal but was unable to put Waitakere ahead.
At halftime the teams were still locked at 1-1 with the result still to play for.
In the second half, Waitakere captain Jake Butler showed his experience beating two defenders but his shot fired just over the bar.
The defining moment for Wanderers came when Alex Frank, who won the youth league with Wanderers last season, was brought on to bring some added firepower up front.
In the 67th minute he was played in and made no mistake, putting Wanderers 2-1 up and in grasp of the team's first win in over a year.
A flurry of substitution followed as Wanderers looked to plug their defence with as many men as possible to hold on to their lead.
Nicolas Zambrano had one more attempt in the 88th minute to bring Waitakere level but it went over the bar before the referee ended the game.
The win still leaves Wanderers at the bottom of the table on six points, but it stopped them from creating a new record of 25 games without a win.
Club chairman Dave Douglas was more than proud at the result after the game, commenting to the fans that had stuck by the team during a difficult period.
"To all of our supporters and Blue Army faithful, that is for you," Douglas said.
"Thanks for always sticking by us, finally winners in blue."
The result had also received praise from fans in Papua New Guinea, who have been following Tommy Semmy's journey at the club.
"Well done to my countryman Tommy Semmy and the Wanderers boys, support all the way from PNG," David Heau Homoka said to the Hamilton Wanderers Facebook page.
The team sits six points behind the Wellington Phoenix Reserves in the spot above them, but have a chance to end a disappointing season with a flourish.