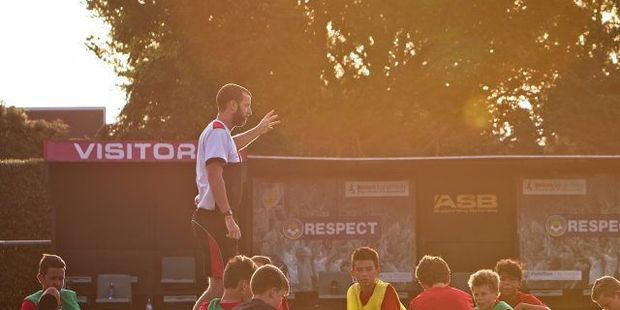 Melville United are raising to new standards as they look to lift the disappointment around the Hamilton football teams.
The club announced on Tuesday a new coaching schedule which will consist of two mornings and three evening sessions per week and will make Melville one of only a handful of organisations in New Zealand to offer a full-time training programme.
The training schedule will be delivered and overseen by Melville head coaches Sam Wilkinson and Michael Mayne and newly appointed head of sports science, Simon Tyndel.
Melville chairman Wytse Bouma welcomed the programme, saying it would appeal to both young and experienced players looking to further develop.
"It ties in with the club's academy coaching philosophy, providing a consistent message across the club as a whole," Bouma said.
Meanwhile, Wilkinson said the main aim of the intensified schedule was to help bridge the gap between the amateur and professional level for up-coming players.
"More training will obviously have performance benefits for our senior teams but we also want to give our young players the best chance of going and playing at a higher level," he said. "By training full-time, we are better preparing our players to go into International or professional environments."
Mayne said the 2018 training schedule offered players a unique opportunity.
"If you are a young player in the Waikato region with aspirations to have a career in the game then we are clearly the only club you should consider playing for," he said.
"At 18 or 19 I would have snapped your hand off for this kind of opportunity. A full-time club based training programme for 17-23 year-olds is very hard to find in this country. To be offering that in Waikato shows tremendous commitment and foresight from the club."
The move has already spark praise from the New Zealand Football sphere with Wellington Phoenix academy director Paul Temple calling it a big step forward.
"Fantastic to see Melville United, Sam Wilkinson and Michael Mayne raising the bar in their region. Big step forward in making our premier winter competitions more professional. All the best with the programme guys," Temple said on his Twitter account.
Waikato Football has been on a spiral down over the last two years as Hamilton Wanderers have so far failed in the countries National League.
During the previous winter season Wanderers were caught in a relegation fight for the second year running, while Melville narrowly missed out on promotion back to the premier league. The winter league will see a number of changes as former All White and Hamilton Wanderers coach Mark Cossey will begin his new life at Claudelands FC with Shane Combers after being sacked by Wanderers last year.
Wanderers will be competing in the winter premier league but will be without Michael Built who has moved to Auckland. The team made Built their director of football for 2018, but Built decided to pursue other ventures.