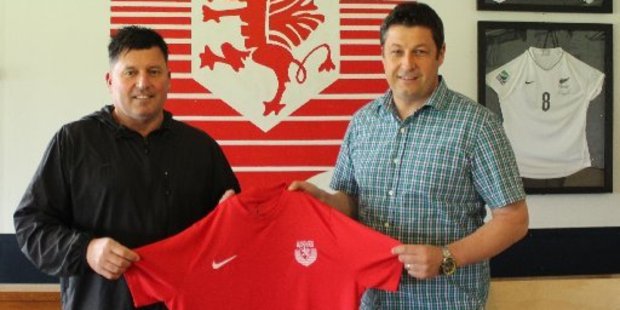 Former All White Mark Cossey is taking up his new venture as head coach of Claudelands Rovers Football Club and the Waikato Football Academy.
Cossey represented the All Whites in the 1980s and has been without a club since leaving Hamilton Wanderers at the end of the New Zealand Football national league in March.
After six months off the radar however, Cossey nowwants to take Claudelands to the top of the LottoNRFL Premiership, which features clubs from Auckland, Bay of Plenty and the Waikato.
"What I want to do with Claudelands is try and do to a certain level what I did with Wanderers - not what I did but what everyone did at that club," Cossey said.
"They've got a good junior base and women's teams are very strong. They've got about 500 members and are centralised in Hamilton."
Cossey will be joined by long-time friend Shane Combers who was his assistant at Hamilton Wanderers.
Combers has breathed football during his time in New Zealand and started the popular store The Soccer Shop before giving up ownership earlier in the year.
"We are good friends and respect each other views. At Wanderers the last three years together we finished in the top four," Cossey said.
"We work together and that's why I wanted him when the opportunity arose."
Claudeland Rovers is not the only thing on Cossey's agenda.
The Waikato Football Academy, which he started while at Wanderers, has become a main goal to develop.
The academy will allow players from any club the chance to develop their skills.
"I started the academy just to allow players who wanted to do extra training to be allowed that opportunity from six to 13 years of age."
"We've got some good players in now who have been playing for youth teams and they have come from four or five different clubs."
Cossey is looking to expand his academy out of Hamilton, with sessions now being held in Matamata from October.
The academy is hosting a Tri-Sports holiday camp next week with former Black Cap Chris Kuggeleijn and current New Zealand National Basketball coach Anthony Corban also taking part.