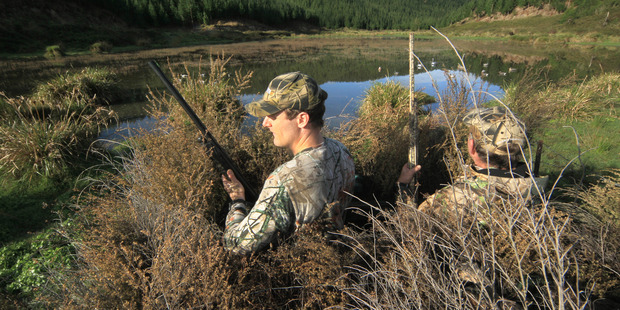 Wild duck populations have plummeted, forcing Fish & Game to slash the number hunters can bag when the season opens in May.
Last year, the allocation was 10 ducks a person but that has been cut to six as a result of the drop in numbers.
Eastern region senior officer Matthew McDougall says its monitoring programme estimates there are about 200,000 ducks in the area, which includes the Western Bay of Plenty. At their height, 700,000 ducks populated the region and numbers are the lowest recorded in nine years. Other districts in the North Island have reported similar decreases.
The season will be open for a month.
Habitat loss and predators are taking a major toll and McDougall says Fish & Game is focused on improving survival rates. "For a population to go up and down there is a death rate, a birth rate, immigration and emigration. We can see from the bands being returned from hunters that 86 per cent are recovered within a 50km radius so the majority of ducks aren't travelling far.
"So mortality and productivity are the two big issues ... we are trying to see how we can improve productivity by habitat management."
There is little wetland left in the Bay of Plenty because of intensive land use and dairy farming, he says.
"We are trying to get a better understanding on how we can maximise the number of birds produced from the small amount of wetland that remains."
Trees and weeping willows that provided overhead cover have proved important for ducklings and overseas information shows ducks thrive in large areas of scrub.
"You can see ducks are struggling for habitat because so many nest beside the roads and get killed during the breeding season. The long grass on the side of the road is the only bit of habitat left."
Video cameras mounted on nests show cats, hawks and pukeko eating eggs, McDougall says. "The ducks have really got it stacked against them."
ARRC Wildlife Trust co-ordinator Sue Mackey says during the duckling season hundreds of orphan ducklings are dropped at its door in Tauranga. "Often mum gets killed on the highway," she says.
"People come in with boxes full of ducklings and we have fosterers who raise them."
The city is becoming attractive for ducks as new subdivisions include waterways and lakes, she says. "Ducks are jovial and intelligent. People love them and enjoy having them around. You only have to look at Bethlehem and a lot of subdivisions and you'll see new ponds full of ducks, so that is increasing the city population."