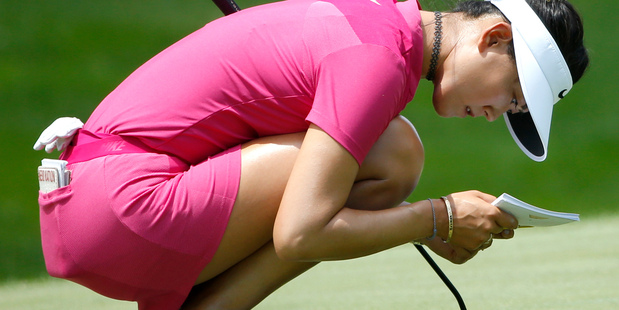 Okay, I've just boosted my vocabulary with words such as "skort" and "racerback" while wading through debates on whether the crackdown on professional female golfers' dress code is warranted.
The parent body, LPGA, is threatening its members to start dutifully replacing divots into their outlandishly revealing course attire or face a $1000 fine, which will keep doubling for anyone who remains defiant.
In its edict released this week, plunging necklines are history, leggings - unless under a skort or shorts - are a goner and so are workout gear and joggers.
Oh and rising hemlines, which have mutated miniskirts into microskirts, must stop short of exposing one's "bottom area [even if covered by under shorts] at any time, standing or bent over".
In the eye of the storm is American professional Michelle Wie who certainly turns heads and interferes with the heartbeat of red-blooded golfing fans every time she crouches like a gecko to read the lie on the greens of the LPGA Tour.
The arguments pertaining to the LPGA's line of action can range from turning women into ogling objects to blokes who are paid more and scrutinised less.
The Golf Digest has quoted Heather Daly-Donofrio, the LPGA tour's communications and tour operations officer, as saying: "The dress code requires players to present themselves in a professional manner to reflect a positive image for the game."
To comprehend how the code reached a stage of dress-code violation requires one to appreciate golf has been trying for decades to shrug off its image as a sport for grumpy old men and fuddy duddies who didn't want women on their man-made Garden of Eden, never mind the 19th hole (clubrooms).
Do the skimpy outfits of the likes of Wie, Lexi Thompson, Paula Creamer and Natalie Gublis detract from the swings, drives, chips and putts on display?
Just the other night I was watching a TV programme called Britain's Got Talent with my wife while waiting for the test match between the All Blacks and the British and Irish Lions.
A judge on the four-member panel, Amanda Holden, left little to the imagination in her dress and had us gobsmacked. Even the TV camera seemed frightened to zoom in on her plunging cleavage.
While she looks great at 46, it seemed to diminish the so-called talent on stage although she may argue as an actress/singer it's the ideal window to promote her sense of worthiness in an image-driven, ageist market.
Female golfers, becoming walking-talking billboards for corporate giants wanting bang for their sponsorship dollars, will concur.
After winning the US women's major in 2014, Wie has won only four LPGA Tour titles since turning pro in 2005 as a 16-year-old.
The 27-year-old is definitely blessed with the good looks and talent of her South Korea immigrant mother, Bo, who not only entered the Miss Korea beauty pageant but also is the 1985 national amateur golf champion in her birth country.
Just as the Williams sisters and Maria Sharapova took the women's tennis fashion world by storm, Wie has revolutionised women's golf with bling, zany hairdos and a tapestry of exotic colours and designs.
Just as Wimbledon demands players wear matching white underwear, golf has courted conservatism despite overwhelming evidence that such a stance is turning away Millennials by the droves.
It is true that one can count Wie's tour achievements in one hand but the LPGA has to be careful not to slap measures that will alienate future generations who tend to tee up more than just a ball in trying to tame the fairways.
While Wie hasn't really lived up to the hype, at least she's looked damn good in promoting the sport to countless females.
No doubt there's always a risk of enticing people who fixate on butts rather than putts - akin to blokes wearing dark shades and accompanying their wives to the ASB Championship in Auckland to ogle at Ana Ivanovic and Caroline Wozniacki.
But try telling that to the Anna Kournikova types who never won a title of any significance but still pocketed millions in endorsements.
Some golfers have social websites where they are in different states of undress to promote their images. Should that be policed?
The reality is not everyone is genetically blessed to exploit the fashion world.
Shanshan Feng, Karrie Webb, Inbee Park and Ariya Jutanugarn have ruled the roost but they won't become eye candy and may well question the merits of rewarding hourglass figures over numbers on the leaderboard.
It seems the LPGA embraced the prospect of "sexying up" its image to boost numbers and followers but that baby has gestated into a green-eyed monster.
What enhances the women's cause should take priority rather than going off on a tangent on males wearing slacks.
I prefer shorts for comfort on the course, mindful my hairy legs are unlikely to be a distraction.
Women's image, when done tastefully, will always be an asset. The degree of perversion also stems from the view finder of a camera so police that.
If short skirts equate to driving farther then why not tee up to become first-class women rather than second-class men.