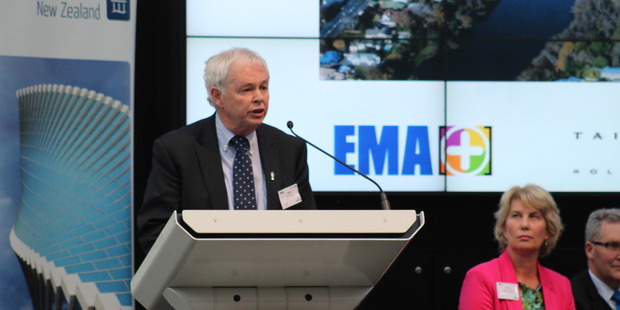 Candidates began to show their teeth at yesterday's Property Council mayoral debate, which culminated with a dramatic declaration from new-kid-on-the-block Chris Simpson that if elected he would use mayoral powers to do a full forensic audit of the city's books.
"That means I can start lifting the rocks under section 41A as the mayor and say 'What's that? What's that?' That's how you approach that and you drive some really clear sunshine straight away from day one," he said.
Candidate Rob Pascoe also came off strongly. Despite repeating his uninspiring slogan of being a 'safe pair of hands', his contributions were marked by a number of fresh ideas, including capitalising on the opportunities for growth in Temple View, which he described as a bigger opportunity even than the Peacocke growth cell.
"By cooperating with Waipa we could in future open up more than 13,000 extra sections. We need to tell the Government about this exciting opportunity and ask for more money to cover off both locations."
He also suggested focusing on developing retirement communities as a way of future-proofing growth, which would free up more family homes.
Mr Pascoe surprised the audience when he became the first candidate to take a shot at one of his rivals. Unfortunately the candidate he set his sights on was Chris Simpson, and more specifically, his population growth forecasts.
"I also have concern over Chris Simpson's estimates of population growth of 40,000 over the next 10 years when this compares to 21,000 - which is the figure updated monthly by Stats New Zealand."
He said working off such high estimates could see council lumbered with massive debt as they put in infrastructure excess to demand.
Mr Simpson took to the mic midway through the criticism, highlighting he was working off a high-end estimates from Stats New Zealand, which in recent times had proven to be the truer estimate.
"That there is a lesson around statistics," he told Mr Pascoe.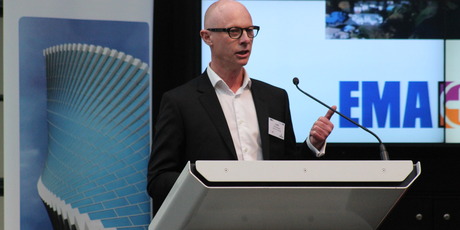 A question from host Graham Dwyer asked how the city could rely on incumbent councillor Andrew King not to inhibit growth, when his was the last appeal on the District Plan.
Mr King's response was to refuse to comment on an appeal which was before the courts, and went on to talk about objections to the Ferrybank being used for commercial properties.
A number of Mr King's comments criticised the council's failure to provide adequate developer-ready land, a statement Rob Pascoe refuted as being untrue.
Mr King responded by challenging any attendee to find a section in Hamilton. He suggested one way to fix the CBD would be scrapping the rates differential whereby commercial properties paid more rates than residential.
"This is a hot potato because every obviously every residential house has at least one vote attached to it."
Mr Dwyer also took aim at Chris Simpson's pronouncements that the city needed a strong vision for the future.
"From what I understand you are saying the city hasn't had a strong vision or a masterplan to work toward - apart from maybe the LTP, the River Plan, The CCTP, City Scope - sorry I'll use up your two minutes at this rate."
Simpson responded by stating the world was entering its fourth industrial revolution, with steam being the first, electricity the second, the third being automated manufacturing, and the fourth about bringing IT, manufacturing and people together.
"We have to understand what that looks like, and from my perspective that is about having a strong vision about what tomorrow really is."
Mr Dwyer asked Paula Southgate, who currently represents Hamilton on the Waikato Regional Council and has done for 15 years, why she would want the mayoralty.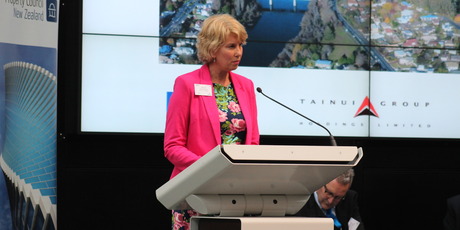 "It is clear that your background focuses on environment, yet what about the building environment and the business community, how does your vision impact on those sectors?"
Ms Southgate responded by refuting her duties at the Regional Council only focused on environment, highlighting their role in economic, resource management, and social well-being.
"My vision is a place of opportunity, education, employment, affordable homes, efficient transport - but it's bigger than that. It's sports it's art, it's culture and green spaces," she said.
"We need to move forward to make Hamilton a place to be proud of and not the butt of jokes. I'm not standing to unpick anyone else's plans and strategies that have been developed in recent times because in actual fact there are some very good aspects around those."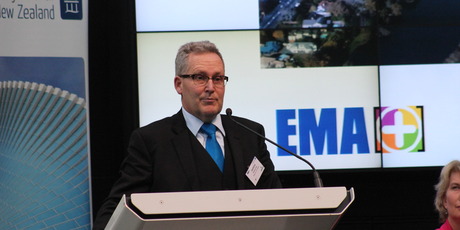 The topic of good urban design formed the basis for one question, with Rob Pascoe supporting the currently provisions including the Urban Design Panel and requirements of the District Plan. These were two points Mr King disagreed with.
"Central Government are saying affordable housing while council are saying urban design."
He said it was "time for some common sense to prevail", but other than saying the District Plan needed looking at did not offer any further suggestions.