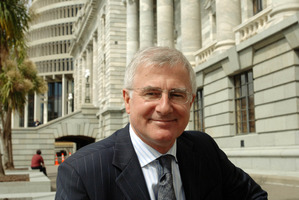 Trade Minister Tim Groser has wedged open the door for Kiwi dairy farmers to protected markets like the US and Canada via the Trans Pacific Partnership (TPP).
But, to make the most out of the TPP concessions, New Zealand companies " such as Fonterra " should ensure they transform themselves into fully fledged food companies and sell more higher-value dairy products to the region.
That's because some products like most cheeses " and ultimately infant formula " will not be hit hard with big tariffs in countries such as the US and Canada. But a quota system will still be applied to dairy which will constrain access to markets.
NZ's traditional milk-powder commodities are not so favoured by TPP.
The TPP benefits agribusiness this way:
-Dairy, which accounts for about a quarter of exports, will achieve tariff savings of $102million a year.
Protected markets such as the US, Canada, Japan, and Mexico will control access through preferential quotas. Canada has constrained foreign quotas to 3.3per cent of it dairy market over five years
-Tariffs on beef exports will be eliminated, with the exception of Japan, where they will drop to 9per cent from 38.5per cent.
-Tariffs on all other exports including fruit, seafood, wine and sheep meat will be eliminated.
The TPP has a long way to go before it is finally bolted down by each of the 12 negotiating parties via their respective political systems. Assuming all goes to plan " and there are some tricky political hurdles ahead in Washington DC and Ottawa where electoral politics could still have an upset effect " the first market openings will take place in 2017.
Last week in Ottawa, farmers - along with their cows - marched on Parliament to protest against the TPP, which they claimed would cause the end of Canada's dairy industry supply management regime.
This won't happen.
And Canadian dairy farmers are being asked to reflect that it's not laid down in stone that, for instance, NZ's dairy exports to Canada will be cheaper than domestically produced products once transport costs are factored in. Some are now suggesting it would be a good thing for Canada to use the competition to force reform within its own sector.
That's good in the long term.
But the more immediate influence on the NZ dairy trade is the strengthening prices being achieved on the GlobalDairyTrade auction platform which this week posted its fourth consecutive gain.
The auction price is clearly being influenced by the reduced supply of product off the back of farmers' decisions to constrain production when the major dairy slump strongly impacted on profitability. The effect of the El Nino weather pattern is also a concern.
This week's auction price underpins Fonterra's recent decision to boost its seasonal forecast above the prior forecast of $3.85/kg of milksolids.
The price will need to persist if Fonterra is to finally deliver on price above $5/kg of milksolids.