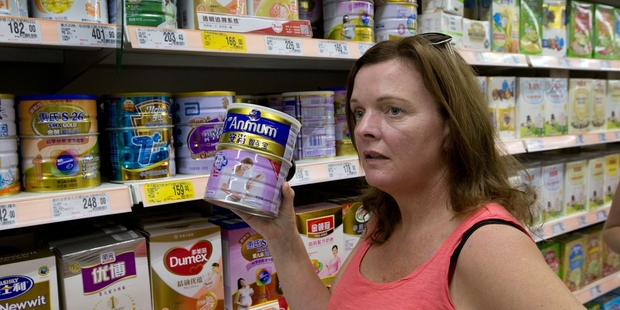 Are the Chinese dairy buyers finally back in town? That was the speculation doing the rounds yesterday after prices spiked up for the second time in a row on the GlobalDairyTrade auction after nearly six months of decline.
The buyers - those with order books to fill for customers in China that run the gamut from food-processing companies to those making added-value products including baby formula " have been absent in recent months. This is the upshot of China having built-up huge inventories of product through last year.
It's important to note that these inventories are now being run down. Although, some influential analysts in Beijing reckon that there will be no sizeable uptick in orders until the back half of 2016.
The big plus is that milk powder does ultimately expire and has to be replaced. Anecdotal reports suggest that some of the near-to-expiry (or even past expiry date) products have been shoe-horned into broad-based food manufacturing " not simply products that are readily identifiable as being based on milk powder or any of the other ingredients that major dairy companies like Fonterra produce.
Publicity over the prospect that other traders may have been gaming the platform has also been a potential factor in the auction's potential recovery.
But the more pertinent issues come down to demand and supply: What's happening in international markets and the measures dairy farmers worldwide are taking to limit supply.
Irrespective, yesterday's price spike " saw the average GlobalDairyTrade auction prices increase 10.9 per cent to US$2226 per tonne of product.
It's notable that just 35,865 tonnes of product was sold, down from 36,904 tonnes of product two weeks ago, indicating that Fonterra is continuing to aggressively manage the auction platform to drive the price curve up. This tactical approach resulted in whole milk powder prices " which are the key driver for the platform and also what Fonterra pays its suppliers at the farmgate " rise by 12.1 per cent to US$2078 a tonne. The November contract period price was US$1975 a tonne rising to US$2110 for March 2016. This is still way short of the US$3000 a tonne which is needed for Fonterra to make good on its farmgate forecasts.
Clouding the future is growing concerns about the upcoming El Nino which the World Meteorological Organisation is warning that could well become one of the strongest on record. As NZ First leader Winston Peters pointed out yesterday that big El Nino drought over 2007/8 cost our dairy sector alone $1.5 billion.
"That drought helped to tip New Zealand into recession at the same time the global financial crisis was emerging".
Keen observers will note that Peters' comments on the agribusiness sector are well-informed " the upshot of his appointment of David Broome as his chief of staff. Before that Broome was general manager strategic communications at Federated Farmers.
Against this background there will be some relief that Statistics NZ reports that the terms of trade delivered a gain of 1.3 per cent for the second quarter of 2015.
Beef exports in particular have been doing very well with high prices enticing some dairy farmers to cull herds, beef is now on an upsurge compared to dairy export volumes.
Notably beef export prices are up more than 27 per cent over the past year.
These factors will be uppermost in the minds of some farmers who are looking to see whether they are over-exposed to dairy.
It won't provide an out for cash-strapped dairy farmers - but it does indicate there are options.